Main Content
UNICEF HK 35th ANNIVERSARY GALA DINNER
2023-02-24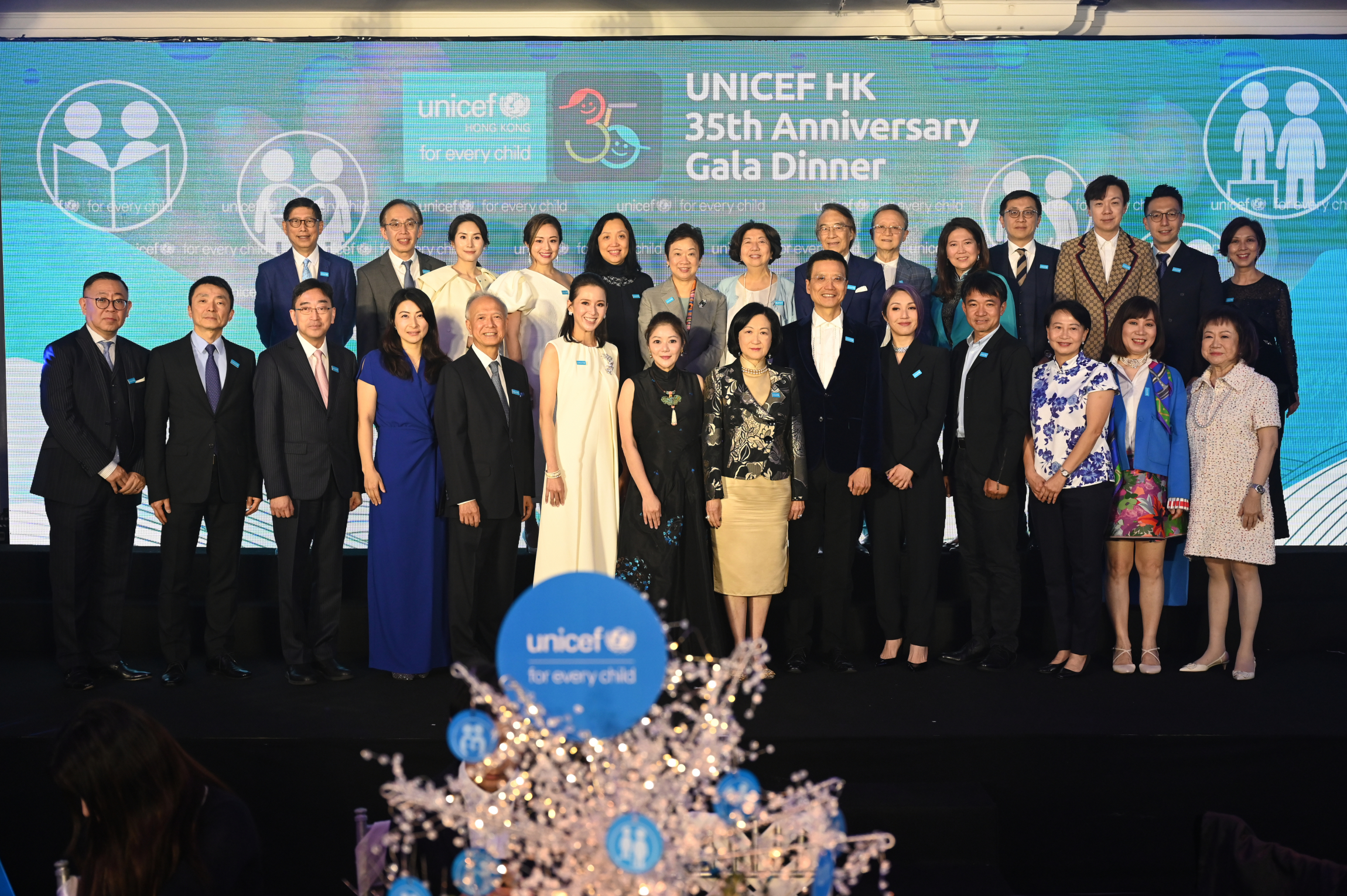 © UNICEFHK 2023
Hong Kong, 24 February 2023 – To celebrate the 35th anniversary, the Hong Kong Committee for UNICEF (UNICEF HK) organized a gala dinner tonight at The Mira Hong Kong to give thanks to its sponsors and partners for their continued support in promoting the well-being of children, while raising funds for children in crises worldwide, especially during hard times in recent years.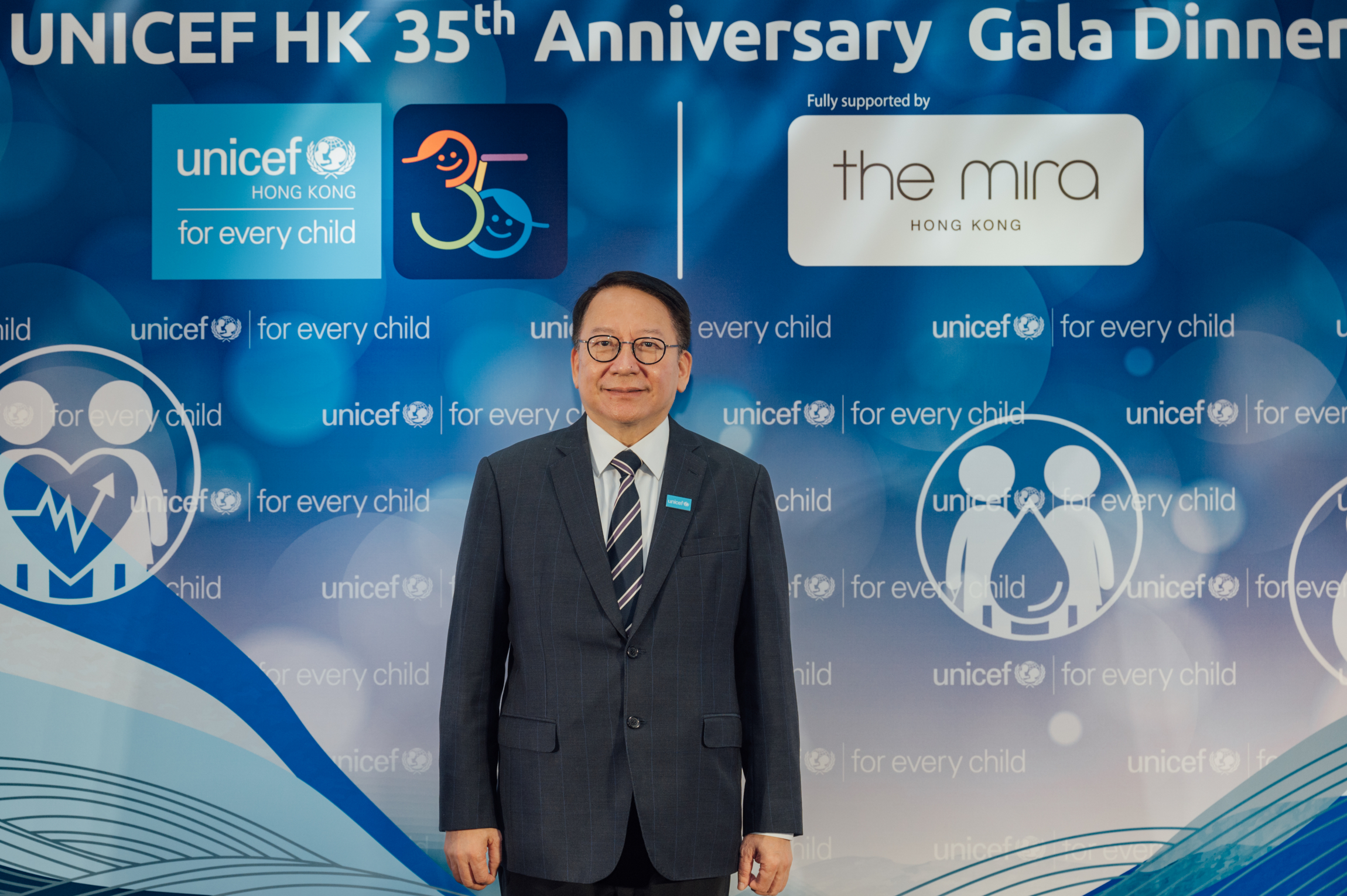 © UNICEFHK 2023
The event was officiated by Mr. Chan Kwok-ki, Chief Secretary for Administration, and Mrs. Regina Ip, Convenor of the Non-Official Members of the Executive Council.
Mr. Chan said, "I congratulate UNICEF Hong Kong on its 35 years of dedication and achievements. UNICEF Hong Kong has been joining with the Government to promote children's rights through various programmes, which dovetail with the Government's comprehensive Youth Development Blueprint released last December. I look forward to UNICEF Hong Kong's continued efforts to expand our next generation's global horizons and promote youth participation."
Mrs. Ip cited the Hong Kong Poverty Situation Report 2020 and pointed out that the poor population and poverty rate stood at 1.65 million people and 23.6% respectively. "Since the recovery of global and Hong Kong economy has not picked up steam yet, we must take extra care of vulnerable children in our society during this difficulty time." In addition, she appealed for everyone's support in UNICEF's work and reach out to children in need.
© UNICEFHK 2023
Ms. Judy Chen, Chairman of UNICEF HK, indicated that UNICEF HK has raised HK$3.26 billion to support global health, nutrition, education, water and hygiene, child protection, disease prevention, social inclusiveness and climate change projects in over 190 countries and territories since its inception. She also gave credit to UNICEF HK's supporters - 470,000 donors, nearly 5,000 child advocators and volunteers, corporate partners and staff members of UNICEF HK for their unceasing support over the years.
During the toughest time of the pandemic, UNICEF HK has also made tremendous efforts in providing timely support to children and families in need. 'For every child, hygiene' campaign was launched in 2020 to provide 1.35 million anti-epidemic supplies including face masks, hand sanitizers and more. When the fifth wave of COVID struck Hong Kong, UNICEF HK rolled out 'For every child, care and relief' campaign, providing support to 7,500 grassroots families. "We will continue to work together for vulnerable children to see beautiful rainbows after the storm and do things right for the future." Ms. Judy Chen added.
The gala dinner featured emergency supplies and UNICEF's humanitarian relief work for children in disaster-struck regions – from health to nutrition, water and sanitation and education. The local Hong Kong children will also benefit from UNICEF HK's advocacy efforts as well as education and youth programmes.
UNICEF HK was also honoured to have Ms. Miriam Yeung, UNICEF Regional Ambassador (East Asia and Pacific), Ms. Guo Jing Jing and Mr. Wong Kam Po, Ambassadors of UNICEF HK, and Miss Josephine Lau to share their past experiences in helping disadvantaged groups in various ways and building a better future for every child alongside UNICEF.
UNICEF HK 35th Anniversary Gala Dinner is fully supported by the Mira Hong Kong.
About UNICEF
UNICEF WORKS FOR CHILDREN.
UNICEF works in the world's toughest places to reach the most disadvantaged children and adolescents – and to protect the rights of every child, everywhere. Across over 190 countries and territories, we do whatever it takes to help children survive, thrive and fulfil their potential, from early childhood through adolescence.
And we never give up.
About UNICEF HK
Hong Kong Committee for UNICEF (UNICEF HK) was founded in 1986 and was established as an independent local non-government organization to raise funds through public donations, partnerships with companies, special events, etc. to support UNICEF's work. UNICEF HK also promotes and advocates for children's rights via organizing education and youth programmes in Hong Kong.
* UNICEF does not endorse any company, brand, product or service.