Main Content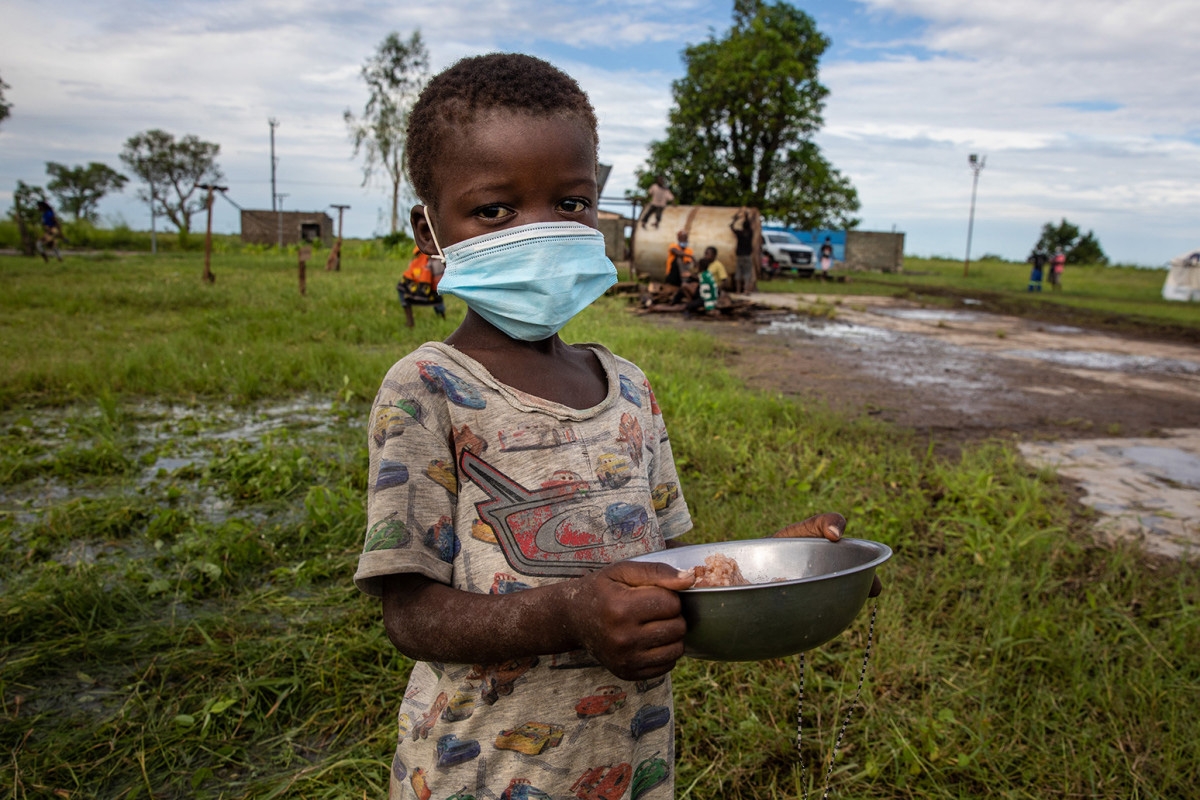 UNICEF Strive to Keep Children's Health and Rights on Track During the
COVID-19 Pandemic and After
Over two years into the pandemic, life has begun to return to normal in most affluent countries, yet many disadvantaged countries and communities are still among the hard hit. As with any disaster, it is those who are already most vulnerable will be affected the worst and children will once again be the hidden victims. The pandemic has made remote and digital schooling a basic and essential educational need for all students, however, over half of the world's students, as many as 463 million of them have no access to remote learning. Even worst, it has caused an additional 150 million children to live in multidimensional poverty and putting millions at risk of starvation. The COVID-19 pandemic threatens to undo decade of progress on child rights.
Now, more than ever, we need your support to help protect children from the devaStating effects of COVID-19 pandemic.
Since the start of the COVID-19 outbreak
Since the start of the COVID-19 outbreak, UNICEF has been racing against time to mitigate the challenges posed by the pandemic and its threat to children. Donations and support from generous people all over the world empowers UNICEF to proactively implement response plan with UN agencies and take a series of response measures as follows:
Protect the world against the threat of Coronavirus: Deliver hundreds of millions of life-saving health supplies, personal protective equipment and hygiene supplies to where they are needed most. Even before the World Health Organization declared COVID-19 a global health emergency, UNICEF had rushed 6 metric tons of medical supplies to the front line. In addition, as of Feb 2022, UNICEF supported the delivery of over 1 billion COVID-19 vaccine doses to 144 countries via COVAX Facility.

Mitigate the impact of the pandemic: Maintain medical treatment services and bring nutritional services from facilities to local community to ensure affected children, pregnant and lactating women are supported with adequate health care.

Recover and rebuild the future: Help affected families to recover and build resilience, reimagine education to keep children around the world learning despite the difficult situation and equip them with essential skills tuna brighter future to prevent a lost generation.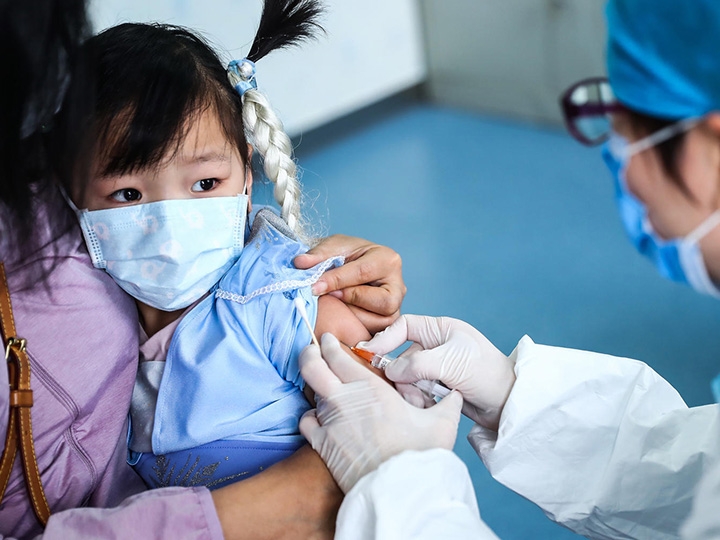 © UNICEF/UNI315081
United Nations Secretary-General AntOnio Guterres said:

COVID-19 is menacing the whole of humanity – and so the whole of humanity must fight back. Individual country responses are not going to be enough... We must come to the aid of the ultra-vulnerable – millions upon millions of people who are least able to protect themselves. This is a matter of basic human solidarity. It is also crucial for combating the virus. This is the moment to step up for the vulnerable.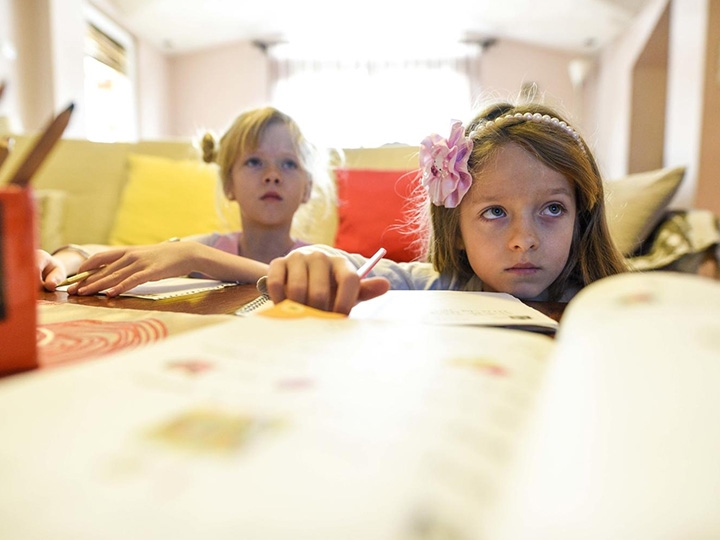 © UNICEF/UNI313767
UNICEF Executive Director Catherine Russell said:
| | | |
| --- | --- | --- |
| | The pandemic has closed schools all over the world – exacerbating what was already a global learning crisis... The impact on child health is also profound. In 2020 alone, an additional 23 million children didn't receive essential vaccinations that protect their lives and their healthy development... And children's mental health has been severely affected during the pandemic, in high-, middle-, and low-income countries alike. These figures represent the lives and futures of millions of children — and the future of their societies... And yet, children have been largely overlooked in the pandemic response. UNICEF has called on the world to put children at the center of global, national, and local pandemic response and recovery planning and budgeting. | |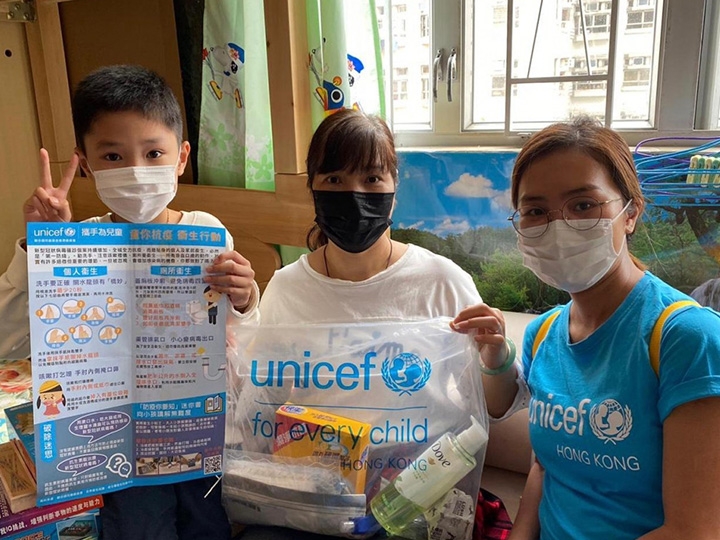 © UNICEF/000000
In March 2020, UNICEF HK launched an emergency action entitled 'for every child, hygiene'. Aiming to prevent and control infection and safeguard the health of disadvantaged children and their families by strengthening their awareness on hygienic practices, including hygiene bag distribution and self-sanitizing disinfectant coating services. 10,000 grassroots families in Hong Kong have benefited from the campaign.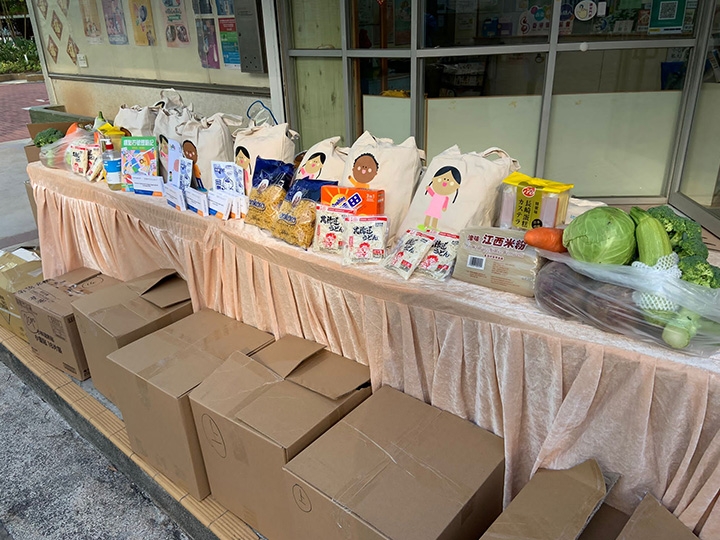 © UNICEF/000000
When Hong Kong was hit hard by the fifth wave of COVID-19 outbreak in 2022, UNICEF HK launched 'for every child, care & relief community support campaign, to provide anti-epidemic emergency support for low-income households. Over 7,500 underprivileged families have received the relief package in March and April 2022 when the local community was seriously affected by the pandemic. Mental health of children and adolescent during the pandemic is also our primary concern, therefore we introduced various programmes, including a Sustainable Development Goals (SDGs) e-Learning platform, guidelines on emotional support under COVID-19, to support them to calm emotion and better cope with the changes during the pandemic.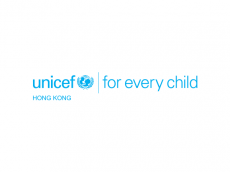 1/1
'COVIDI9 Emergency Action' Monthly Donation Programme
Your long-term and stable support will help UNICEF deliver life-saving health supplies in times of emergency, build water and hygiene facilities that promote long-term development of under-resourced communities, and keep girls and boys connected to education and protection.
'COVID19 EMERGENCY ACTION' MONTHLY DONATION PROGRAMME