Main Content
"Run for Every Child" The UNICEF Charity Run 2023 – Physical Run Returns to Raise Awareness for Good Health and Well-being!  
07/09/23
Re-introducing the historic 15km Run to celebrate the 15th year of the largest road-running charity event in Hong Kong
HONG KONG, 7 September 2023 – The Hong Kong Committee for UNICEF ("UNICEF HK") officially announced the comeback of the UNICEF Charity Run 2023. The largest road-running charity event in Hong Kong returns for the first time since 2018 and will be held once again at Hong Kong Disneyland Resort and Sunny Bay on the 5th of November this year. Online registration (https://run.unicef.org.hk/) is now open for all race categories. UNICEF HK is calling for around 10,000 participants to join forces together and run for every child.
Physical Run Returns. Let's Run for Good Health and Wellbeing
This year, the UNICEF Charity Run is dedicated to making United Nations Sustainable Development Goal (SDG) 3: Good Health and Well-being, a reality for every child. SDG 3 aims to ensure healthy lives for all and to avoid needless suffering from preventable diseases and premature death. UNICEF Charity Run 2023 encourages a moderate level of exercise every day to improve resilience, physical and mental health of adults and children, and to create a conducive environment for the development of children and adolescents.
The UNICEF Charity Run 2023 is made possible by Lead partner China Cinda (HK) Holdings Company Limited. It beckons both seasoned and leisurely runners to participate in this prestigious event of benevolence. With a wide range of runs, including the 15km Run,10km Run, 5km Run, and 3km Fun Run (Youth / Family race), this charitable event caters to all individuals of diverse running backgrounds and aspirations. Seasoned runners will have the opportunity to participate in the exhilarating 10km Run (Challenge Group). The results of both 10km Run (Challenge Group) and 5km Run will be accepted by the Hong Kong, China Association of Athletics Affiliates (HKAAA). The 3km Fun Run (Youth / Family race), is a combination of fun and fitness, inviting families to enjoy bonding time through running. Proceeds from UNICEF Charity Run 2023 will contribute to UNICEF global services in areas of health, nutrition, water and hygiene, and other children rights related initiatives. Participation in all races serves as a good cause – forging a brighter future for children in need.
A Unique and Meaningful 15km Run
UNICEF Charity Run, a pioneering long-distance race staged in Hong Kong Disneyland Resort and Sunny Bay, is making a grand return with a unique 15-kilometer race to mark the 15th year of this philanthropic event. Ms. Judy Chen, Chairman of UNICEF HK said, "During the inaugural UNICEF Charity Run in 2006, we proudly organized an empowering 15km race. Now, in this momentous occasion, we have brought back the 15km Run, inviting all to join hands with UNICEF and continue forging a path towards the betterment of children's lives." She further explained that the focus of SDG3 this year is a direct response to the profound impact caused by the pandemic in the past 3 years, the adversity it had on the growth and well-being of children and adolescents worldwide. It is in recognition of the transformative power of sports, which can contribute significantly to both physical and mental health.
Through this inspiring event, we aim to unite a global community, touching hearts and uplifting spirits as we strive together for a brighter future for our younger generation.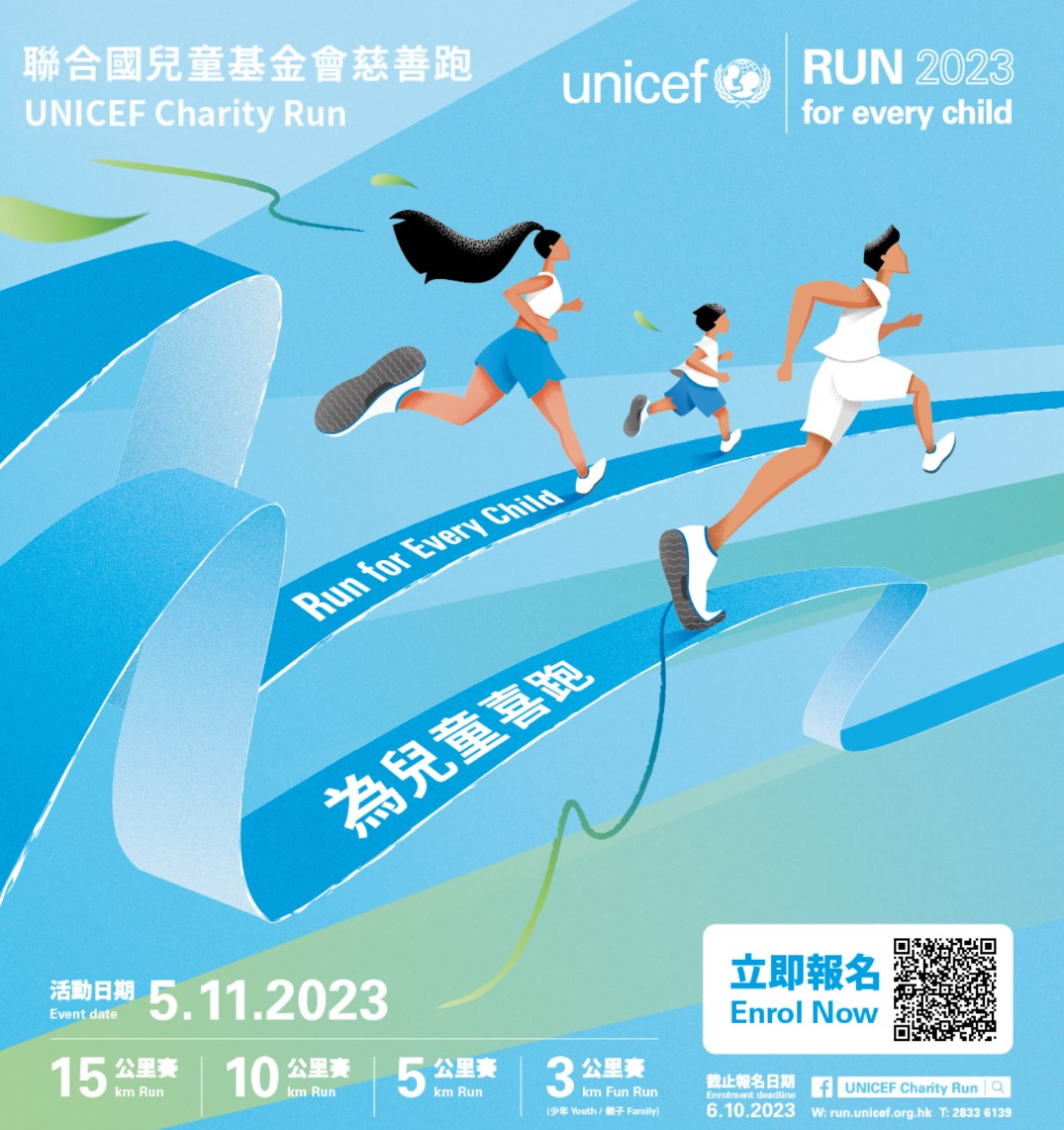 For race information, please visit https://run.unicef.org.hk/
UNICEF does not endorse any brand, company or service.
About UNICEF HK
The Hong Kong Committee for UNICEF (UNICEF HK) was founded in 1986 and was established as an independent local non-government organization to raise funds through public donations, partnerships with companies, special events, etc. to support UNICEF's works. UNICEF HK also promotes and advocates for children's rights through organizing education and youth programmes in Hong Kong. Learn more at UNICEF HK ( www.unicef.org.hk ).
For media enquiries: