Main Content
Breastfeeding Room Design Competition Winners Announcement
28/07/2023
28 July 2023, HONG KONG — The Breastfeeding Room Design Competition co-organized by HKSAR Department of Health and Hong Kong Committee for UNICEF (UNICEF HK) received overwhelming submissions from corporations and the public. Winners of the competition were announced at the World Breastfeeding Week 2023 Celebration Ceremony on 28 July 2023.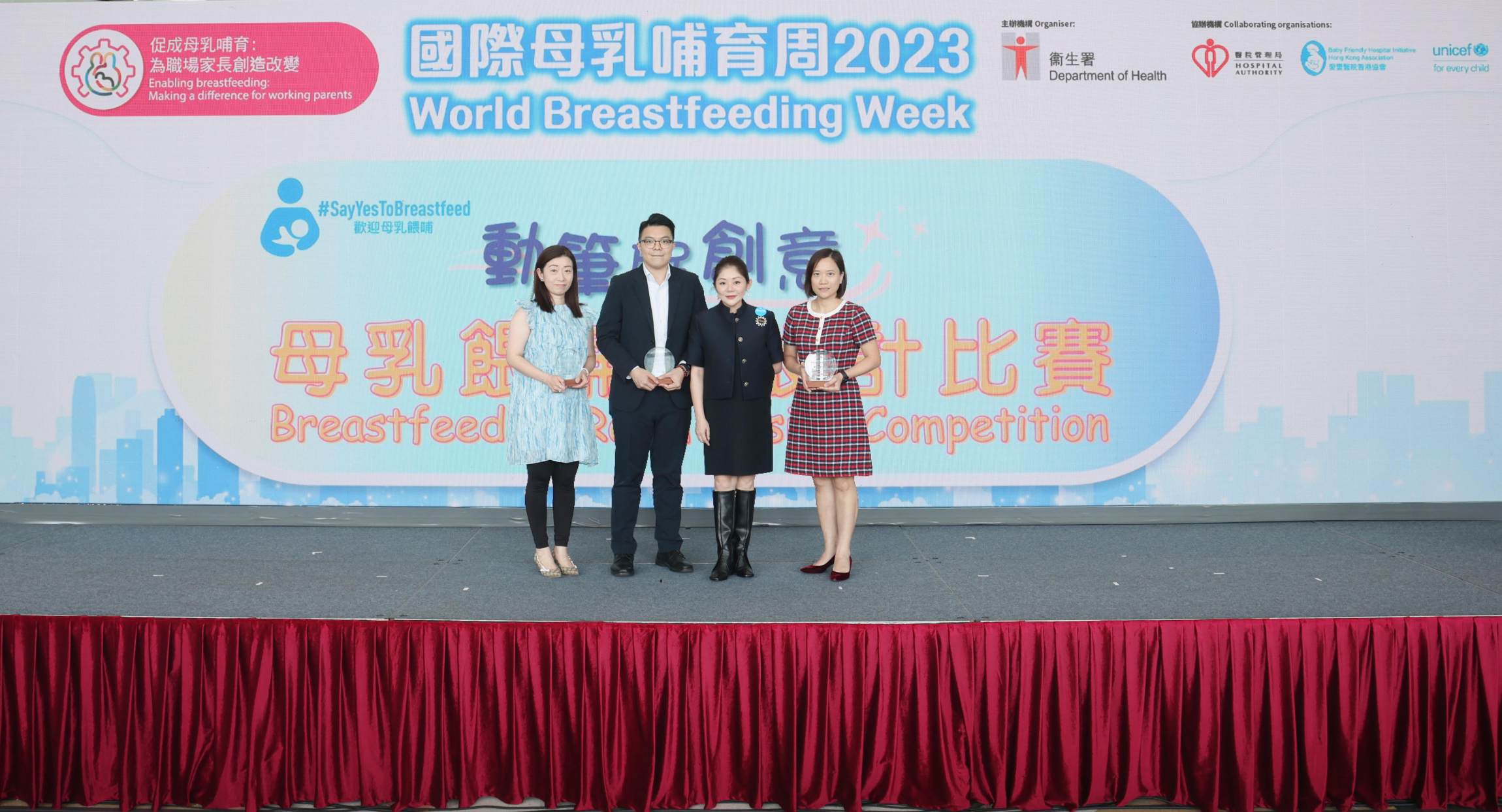 Ms Judy Chen, Chairman of UNICEF HK, presented awards to the representatives of the winning corporations.
Corporate Category Winners:
Most Innovative Design Award Winner: Bank of East Asia
Design Concept Overview: A cosy breastfeeding room with high privacy and comprehensive facilities that respects breastfeeding mother's right and encourages new mothers to breastfeed.
The design converts an existing meeting room into a breastfeeding room that caters to the needs of mothers. Card reader access system is installed to enhance privacy; lactation cubicles are equipped with motion sensors, occupancy indicator and panic button; a comprehensive suite of facilities provided for breastfeeding mothers' convenience.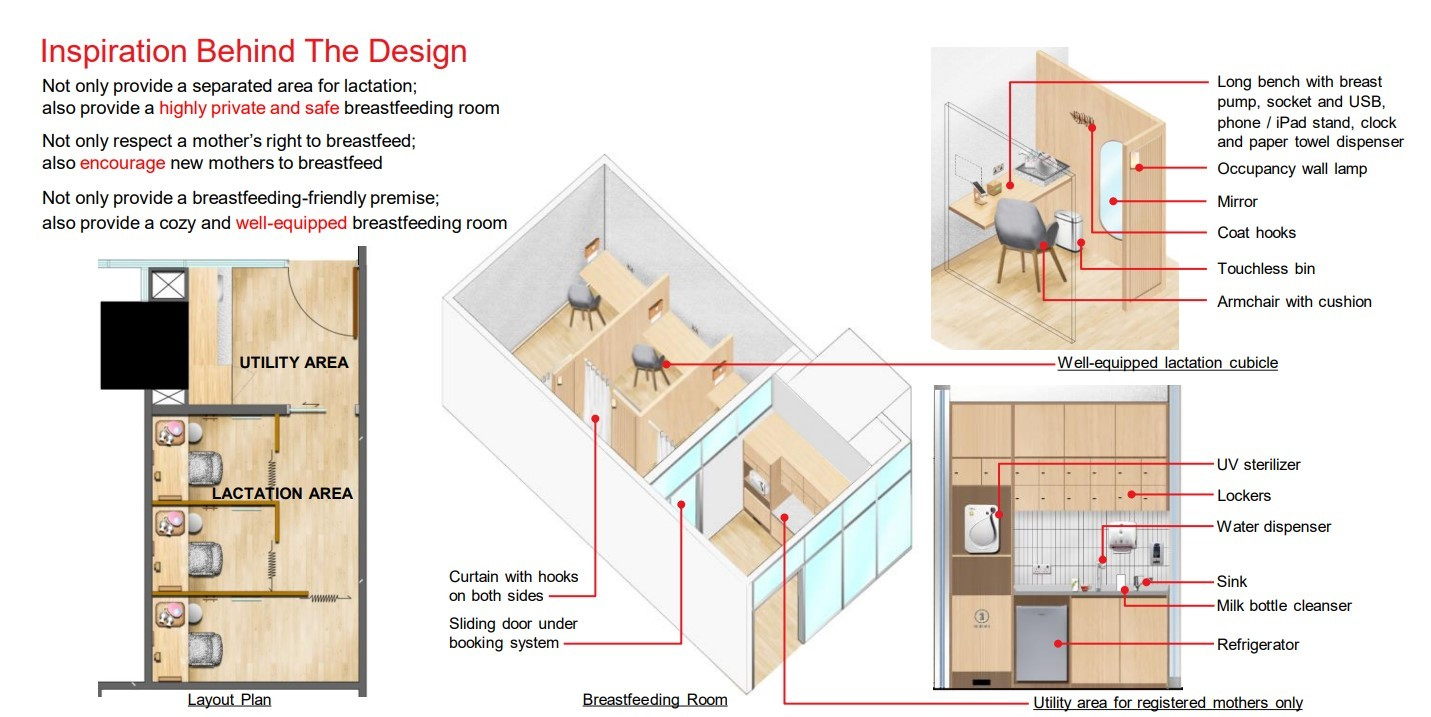 Most Practical Design Award Winner: V City
Design Concept Overview: Providing customers with quiet breastfeeding rooms with high privacy. Automatic doors allow mothers carrying heavy items or pushing strollers to enter and exit safely while taking care of their babies. Inside the room, there are sofa, bottle warmer, electrical outlets, hot water dispenser and sterilization supplies. A nappy changing pad and disposable sheets are also provided for baby care. Next to the changing pad, a warm wet wipes dispenser is available and a heat lamp is installed to keep the baby warm.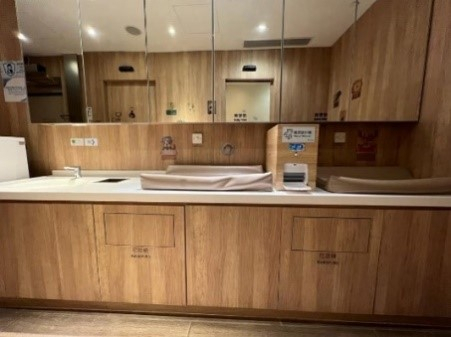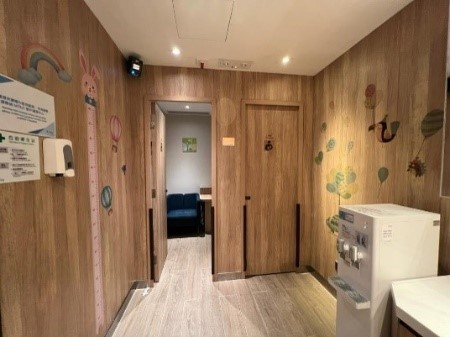 Most Inspirational Design Award Winner: Sun Ferry
Design Concept Overview: Committed to implementing breastfeeding-friendly policies, Sun Ferry introduced Hong Kong's first designated breastfeeding room on a public ferry in 2016. Nowadays, breastfeeding rooms are available on all 5 of Sun Ferry's three-storey ordinary ferries. The marine-themed design conveys a sense of joy, and comprehensive amenities including wash basin, sofa and nappy changing pad offer a safe and cosy breastfeeding environment.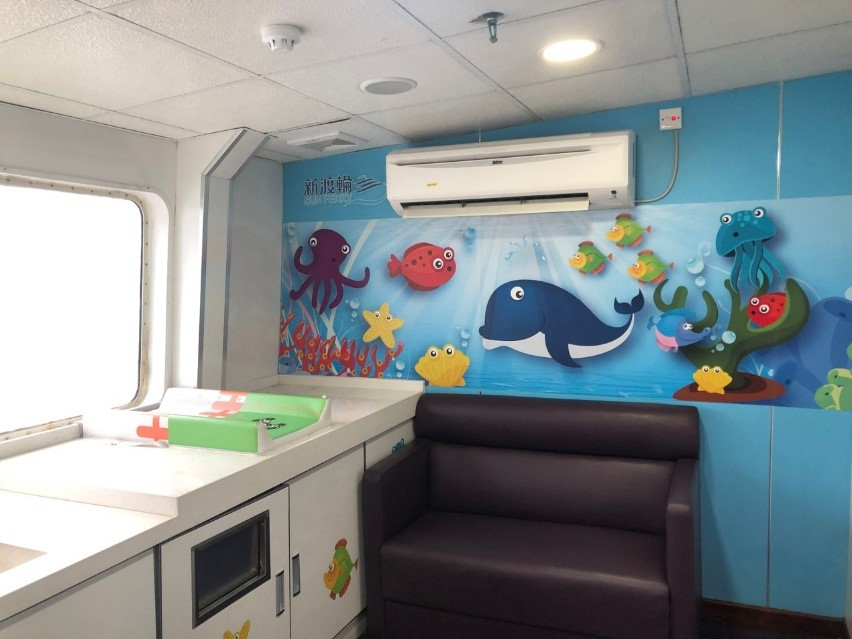 Individual Category Winners:
Most Innovative Design Award Winner: Tang Ho Yin
Design Concept Overview: In today's fast-paced society, a mobile breastfeeding pod offers breastfeeding mothers a serene and hygienic space to comfortably breastfeed or lactate on the go, be it at airports, shopping malls, workplaces or public venues. The sleek and ergonomic design features adjustable lighting and temperature, noise-cancellation technology, soothing sounds and an advanced ventilation system that creates a cosy atmosphere for both breastfeeding mothers and babies. The mobile breastfeeding pod is equipped with cutting-edge smart features, such as smartphone app-controlled lighting and temperature, and nearest available breastfeeding pods location search. This innovative design revolutionizes breastfeeding experience, empowering nursing mothers to confidently, privately and conveniently breastfeed their babies anytime, anywhere.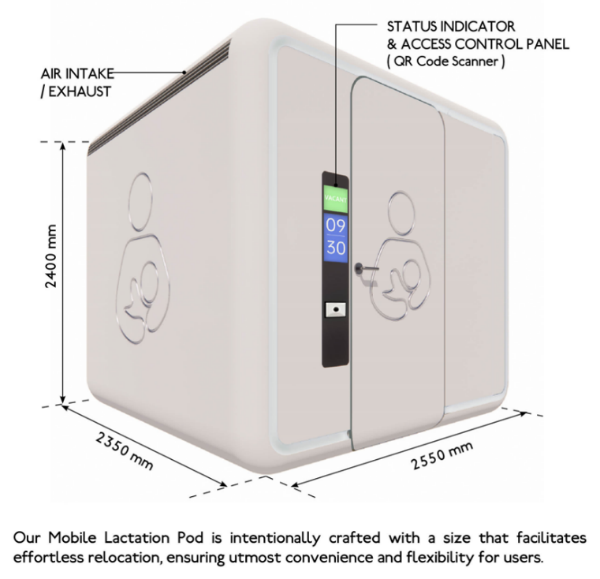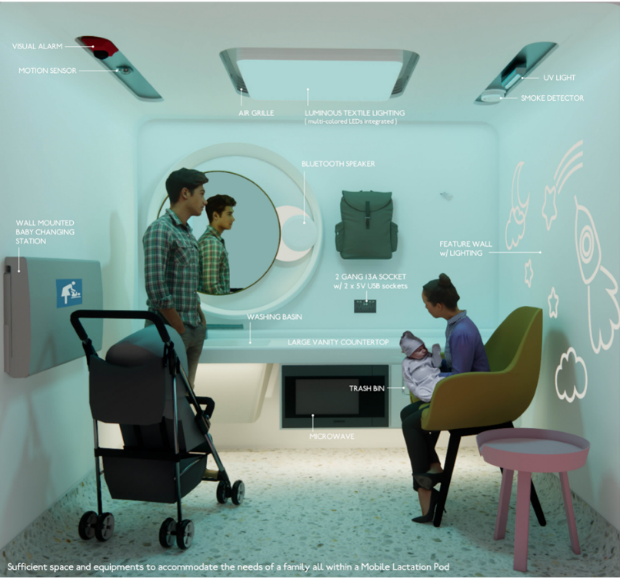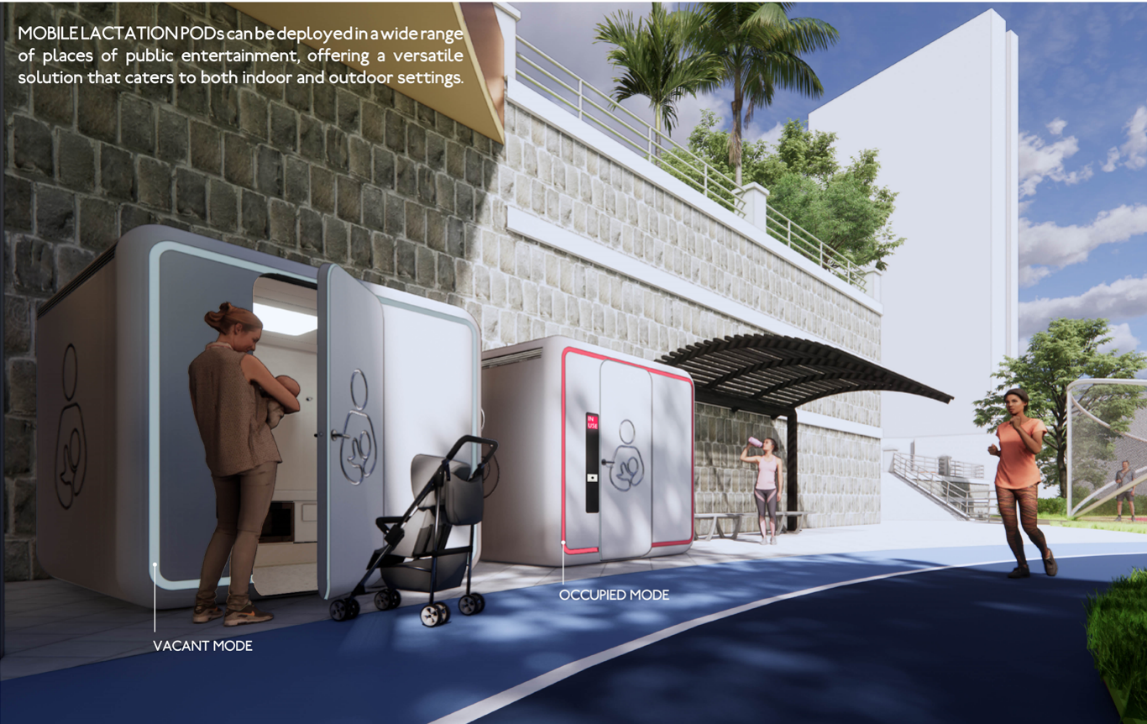 Most Practical Design Award Winner: Wong Mei Sze
Design Concept Overview: Touchless operation of automatic door, all buttons, water tap, soap dispenser, rubbish bin and drinking water dispenser reduces cross-contamination risks. To provide mothers with maximum comfort during breastfeeding or lactation, the room is equipped with a reclining sofa, lumbar cushion and adjustable foot rest. USB ports, wireless charging pad and electrical outlets are also installed next to the sofa for convenience. Mothers can adjust room brightness and temperature, as well as plays soft music to help them relax. The nappy changing table is fitted with a heated pad to keep baby warm. The touchless control panel is equipped with an emergency call button at the bottom for safety, allowing users to seek assistance easily.
Most Inspirational Design Award Winner: Hui Wang Chuen
Design Concept Overview: How do you think of breastfeeding? Is it mandatory to put breastfeeding rooms next to female restrooms? Is breastfeeding secretive and dull? Based on the three core values of breastfeeding – autonomy, privacy and accessibility, this design reimagines the scenario and setup of modern breastfeeding rooms to promote a positive and privileged image, so that breastfeeding is regarded as a healthy, joyful and friendly practice for mothers, babies and society as a whole. The round-shaped mobile breastfeeding room can be installed anywhere, and its interior facilities are categorized into three levels:
Basic facilities include nappy changing pad, sofa, table, rubbish bin, disinfectants, tissues and an emergency button.
Auxiliary facilities enhance user experience, including sanitary provisions, small refrigerator, automatic door, colour indexing for furniture and set up.
Decorative features provide emotional support by creating a comfortable atmosphere through decorated walls, floor images and soft background music.

Congratulations to all winners of Breastfeeding Room Design Competition and a heartfelt thank you to the support from every participant. We call on all corporations and citizens in Hong Kong to continue their unwavering support to 'Say Yes To Breastfeeding' campaign and to offer mothers with breastfeeding friendly spaces.
For enquiries about the competition, please call 2836 2940 or email [email protected].
Hong Kong Committee for UNICEF reserves the right of final decision.
UNICEF does not endorse any brand, company or service.
For media enquiries, please contact:
Hong Kong Committee for UNICEF
Youk Huang Manager, Communications and Media Relations
Tel: 2836 2929 Email: [email protected]
Ricky Cheng Director, Communications and Media Relations
Tel: 2836 2984 Email: [email protected]
About Hong Kong Committee for UNICEF
Hong Kong Committee for UNICEF (UNICEF HK) was founded in 1986 and was established as an independent local non-government organization to raise funds through public donations, corporate partnerships and special events, etc. to support UNICEF's work. UNICEF HK also promotes and advocates for children's rights through organizing education and youth programs in Hong Kong.