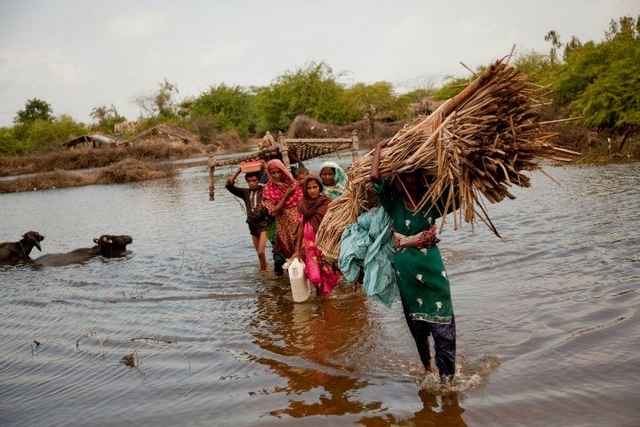 ISLAMABAD/ HONG KONG, 2 October 2011 – Following the monsoon floods that have struck Sindh province for the second year in a row, UNICEF and its partners are now reaching hundreds of thousands of families with life-saving assistance. Almost 210,000 people are now receiving clean water daily, while supplies such as buckets, soap, water purification tablets and tarpaulins are being distributed to more than 100,000 people.
UNICEF has also been supporting some 100 mobile immunization teams from the Department of Health to administer more than 175,500 vaccines, including polio and measles, to children at relief sites. UNICEF-supported mobile and static health teams have already reached more than 11,000 women with ante-natal and post-natal care, safe deliveries, and referrals to health facilities. In addition, mobile teams are going house to house to screen children and pregnant and lactating women, identifying the malnourished and referring them to for appropriate treatment. This week, UNICEF also has set up 900 Temporary Learning Centres for 45,000 children.
UNICEF and partners have now established 23 new centres for the management of severely malnourished children in affected districts. These complement the 454 centres already established in response to the 2010 floods and which continue to operate in partnership with other UN agencies and national and international NGOs.
UNICEFnowscales up humanitarian assistance to meet the key needs of hundreds of thousands of children and women displaced by the floods. Starting next week, in collaboration with the Department of Health and partners such as WHO and UNFPA, more than one million women and children will be reached in six flood-affected districts with a package of assistance, which includes immunization, deworming, and awareness messages on diarrhoea, pneumonia and malaria, as well as the distribution of clean delivery kits, newborn kits and hygiene kits. This is expected to significantly reduce the threats of communicable diseases as well as the complications of pregnancies.