HK Activities
| | | | | | | | | |
| --- | --- | --- | --- | --- | --- | --- | --- | --- |
| About GHD | | HK activities | | | | | | |
Activities in 2013
"Soap for Good" Project
The theme of Global Handwashing Day 2013 is "The Power in Your Hands". This year, UNICEF HK continues to collaborate with Soap Cycling, a local NGO, to conduct public education activity to further educate the students and public about the message of 'Clean Hands Save Lives'.

Throughout the school year 2013/14, UNICEF HK will continue promote the importance of handwashing with soap in schools and communities. UNICEF Club member school will participate in a number of educational activities, such as visiting Soap Cycling's office at Kwai Chung, to volunteer processing used hotel soap which will then be recycled and distributed to the needy children and families in Hong Kong, as well as the Philippines and other developing countries. They will also educate their peers about proper handwashing at schools, and talk to school management to ensure soap is placed in every washroom in the campus. They will also help identify local NGOs, so that the recycled soap bars can reach more children and families in need, and hope everyone in Hong Kong will have develop good habit of washing hands with soap.
Ambassadors' Appeal

UNICEF HK Ambassador Gigi Leung and Trey Lee have shot videos to promote support for Global Handwashing Day. Watch and share their appeal with your family and friends!

Join the Global Action online

To further spread the message, you can join the Thunderclap campaign with supporters around the world. If the Campaign reach 250 supporters, a mass message will be sent out at 10 a.m. on 15 October to promote Global Handwashing Day and handwashing.

You can also join the global campaign by changing your facebook cover photo or post with the official hashtag #iwashmyhands.
---
Activities in 2012
"Soap for Good" Project
| | |
| --- | --- |
| This year, UNICEF HK collaborates with different organisations in society to launch the "Soap for Good" Project in celebration of the Global Handwashing Day 2012. Recycled hotel soap will be collected, carefully wrapped and later be distributed together with a handwritten greeting card to deprived families in Hong Kong through Society for Community Organization, or children in the developing countries through the field visits of UNICEF HK to spread the message "Wash with Soap, Live with Hope". | |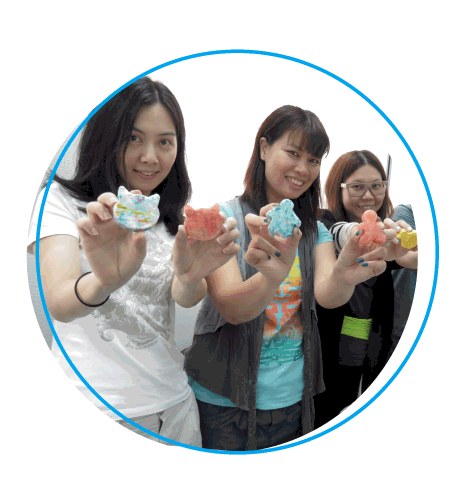 Change your profile picture, foster the culture of handwashing together!
On 15 October, we invite you to change your Facebook timeline cover photo with the painting by Xanxus Kwan Yuk Lun, a 16-year-old boy who won the first prize at UNICEF sponsored 10th International Art Competition "Different Look"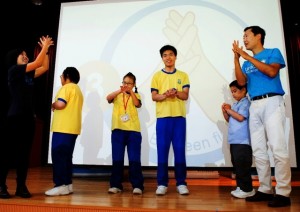 School Activities – Promote "Clean Hands Save Lives"
In the appointment ceremony of Internationally renowned cellist Mr Trey Lee as UNICEF HK Ambassador in mid September, Mr Trey Lee has taught students from Hong Kong Red Cross Princess Alexandra School the correct handwashing steps
UNICEF Club students will emphasise the importance of handwashing with soap through "Making a Tippy Tap" and "Shake my hand" in secondary schools
---
Activities in 2011

To promote Clean Hands Save Lives, the key message of the Gobal Handwashing Day (GHD), the Hong Kong Committee for UNICEF invited famous DJ Chu Fun and four lovely children to perform in a music video to depict proper handwashing steps and critical moments to wash hands via dance and song.

Dr Zhenbo Yang, Chief of the Water, Sanitation and Hygiene Programme in UNICEF China taught over 40 secondary students proper ways of handwashing, health and sanitation knowledge, preparing them to be GHD's 'Student Handwashing Leaders'.

After the kick-off on 13 October 2011, GHD Student Handwashing Leaders (divided into groups of four) start to conduct teaching sessions in over 20 kindergartens in Hong Kong until the end of this year, promoting proper ways of handwashing to children through the 'Clean Hands Save Lives' dance, and arousing attention on personal hygiene and self protection. With the peak season of Hand, Foot and Mouth Disease approaching fast, the campaign aims to call for all kindergartens to address the concern of upper respiratory tract infections such as, Hand, Foot and Mouth Disease and scarlet fever and draw public attention to the health of the children in developing countries.
Click
here
to view the press release and related photos of Global Handwashing Day Campaign 2011 in Hong Kong
More photos can be found on our
facebook page