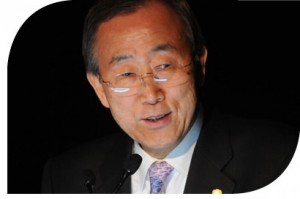 The International Year of Youth was launched on 12 August in the General Assembly Hall with an eclectic event. United Nations Secretary-General Ban Ki-moon was on hand with welcoming words to kick off the Year, which runs from 12 August 2010 to 11 August 2011 under the theme 'Dialogue and Mutual Understanding'.
The Year aims to promote the ideals of peace, respect for human rights and solidarity across generations, cultures, religions and civilisations.
As the world confronts many, often overlapping, crises, including financial and other socio-economic challenges, investing in and partnering with youth is key to finding sustainable solutions.
In a message issued on the occasion, Secretary-General Ban Ki-moon said, "In a world in which different peoples and traditions are coming into closer, more frequent contact than ever before, it is crucial that young people learn how to listen intently, empathise with others, acknowledge divergent opinions, and be able to resolve conflicts." He called for strengthening efforts "to include young people in policies, programmes and decision-making processes that benefit their futures and ours."
To guide its efforts during the Year, the UN is focusing on three overarching objectives:
(1) Increasing commitment and investment in youth;
(2) Increasing youth participation and partnerships and
(3) Increasing intercultural understanding among youth