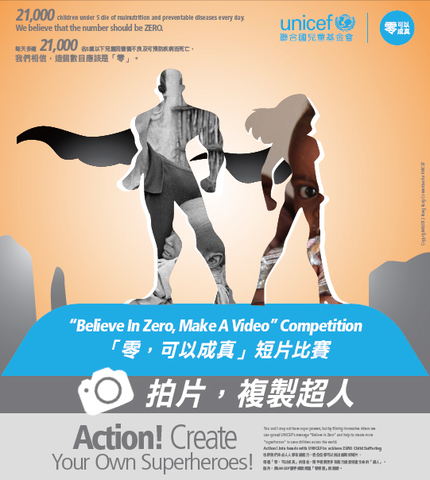 21,000 children under 5 die of malnutrition and preventable diseases every day. We believe that our work is not achieved until there is ZERO MORTALITY from preventable diseases.Together, we could achieve our Believe In Zero's goal.
Universal Children's Day marked the enactment of the Convention on the Rights of the Child on 20 November. As a celebration of the Day, UNICEF HK will join hands with Academy of Film, Hong Kong Baptist University, co-organising
"Believe In Zero, Make A Video" Competition
. We are recruiting vigorous and creative young people to raise public awareness on children's right to survival by video production with the slogan of "Action! Create Your Own Superheroes", and ultimately, to motivate Hong Kong people to achieve ZERO SUFFERING for children with UNICEF.
More >>