WASHINGTON, D.C., USA/ HONG KONG, 16 June 2012 –Worldwide, under-5 mortality has declined from more than 12 million deaths in 1990 to 7.6 million in 2010 – yet thousands of children still die every day from preventable diseases. On 14-15 June 2012, the Governments of Ethiopia, India and the United States, together with UNICEF, convened the Child Survival Call to Action conference, mobilising the world toward one ambitious but simple goal – ending preventable child deaths. The meeting asked governments and partners to sign A Promise Renewed, a pledge to work toward greater child survival.
Ethiopia's Minister of Health opened the second day of the Child Survival Call to Action conference in Washington, D.C, by encouraging countries to take ownership of new international momentum to reduce child mortality.
"Local action can change the tide," he said. "If there's no ownership, there's no commitment."
 Child Survival Call to Action brought together 700 leaders and experts from public and private sectors, as well as religious leaders, to map out ways to significantly reduce the numbers of children who die before their fifth birthday. The conference is co-convened by Ethiopia, India and the United States, in close collaboration with UNICEF.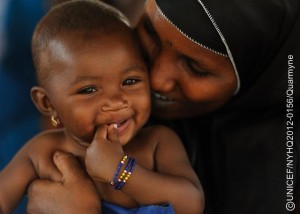 A road map to child survival
In the past last 40 years, thanks to new vaccines and improved health care practices, child deaths have been reduced by more than 50 per cent.
Yet millions of children still die every year from preventable causes, mostly in sub-Saharan Africa and south Asia. Child Survival Call to Action challenges the world to make specific plans to reduce child mortality to below 20 child deaths per 1,000 live births in every country by 2035.
Child Survival Call to Action has drawn up a five-point plan to achieve that goal. It starts with increasing efforts in the 24 countries that account for 80 per cent of under-5 deaths. It also focuses on underserved populations, addressing the five causes of nearly 60 per cent of child deaths, as well as educating women and girls, and ensuring accountability.
"This road map is taking in the accumulated wisdom across our community," said Amie Batson, USAID Deputy Assistant Administrator for Global Health.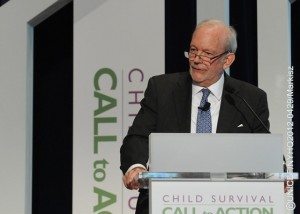 UNICEF Executive Director Anthony Lake led a panel discussion on the UN Commission on Life-Saving Commodities for Women and Children, which was formed by UN Secretary-General Ban Ki-moon earlier this year. The commission, which Mr Lake co-vice chairs, and which will present its findings in September, is investigating ways to get simple life-saving medicines, such as zinc and oral rehydration salts, to more vulnerable women and children.
"The commission was formed out of anger. Anger among all of us that millions of children and women are dying because of a lack of access to the simplest life-saving commodities. That's a moral obscenity. But it is also a tremendous practical opportunity, a tremendous way of effectively reaching into the most disadvantaged communities around the world," Mr Lake said.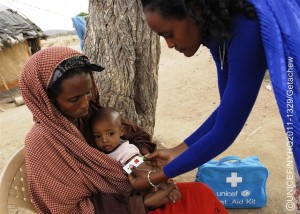 Nigerian Health Minister Muhammad Ali Pate explained how his country is striving to become more equitable by ensuring that every mother and child gets essential commodities.
"We've developed a scale-up plan on essential commodities focusing on pneumonia, diarrhoea and malaria, and it's a consolidation of an ongoing effort that we've been undertaking for improving community case management," he said. "We're expanding community health workers to rural health facilities all over our country, and there at the retail outlets taking those commodities to where they are needed for the most vulnerable and the poorest segment of our population."
UNICEF Deputy Executive Director Geeta Rao Gupta wrapped up the summit by saying the gathering was an opportunity to create history – to make preventable child deaths a thing of the past.
"I know it's an ambitious goal, but it is attainable if we believe it is attainable; if we have the will. So the first step is to imagine a world in which no child dies needlessly from illnesses and disease that can be prevented or treated," she said.
Ms Gupta said the conference had taken the development world forward in terms of rebuilding confidence in the ability to make change.
"That is our call to action, working together, each and every one, to bring about an unprecedented reduction in preventable child deaths, to renew the promise to give every child the best possible chance to survive," she said.