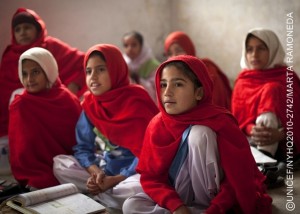 BRUSSELS/ NEW YORK/ HONG KONG, 19 December 2012 – The decision by the European Union (EU) to give a portion of the Nobel Prize award to UNICEF, means that more children in Pakistan will have better chance at education and learning.
UNICEF is among five humanitarian organisations to receive funds for programming in complex emergencies from the EU which was awarded the Nobel Peace Prize on 10 December 2012. The EU also announced that in addition to its prize money of around HK$9.3 million (€930,000), it will top up its donation to a total of around HK$20 million (€2 million) for education in emergencies projects towards the EU Children of Peace initiative.
"We are honored and grateful to the EU – not for UNICEF itself, but for the children we serve," said Anthony Lake, UNICEF Executive Director.
Complex emergencies can have a deep and lasting effect on children – physically, psychologically and emotionally. Education helps children learn skills to develop values and attitudes that prevent conflict and build peace.
The funds will benefit 3,000 Pakistani children from three to 9 years old in 30 camp schools in Khyber Pakhtunkhwa. The education packages for the displaced include school-in-a-box supplies, training for teachers, education for peace training and psychosocial counseling that will help children cope with traumatic experiences.
UNICEF congratulates the other recipients of the financial award: the Agency for Technical Cooperation and Development, UNHCR, Save the Children and the Norwegian Refugee Council.