© UNICEF Philippines/2015
On November 8, 2013, Super Typhoon Haiyan, one of the strongest tropical cyclones ever recorded, disrupted the lives of nearly six million children and destroyed the homes of 1.4 million children and their families. Two years on, UNICEF continues to help children, families and communities rebuild their lives.
Here are just a few examples of how UNICEF is helping communities build back better and help them stay strong.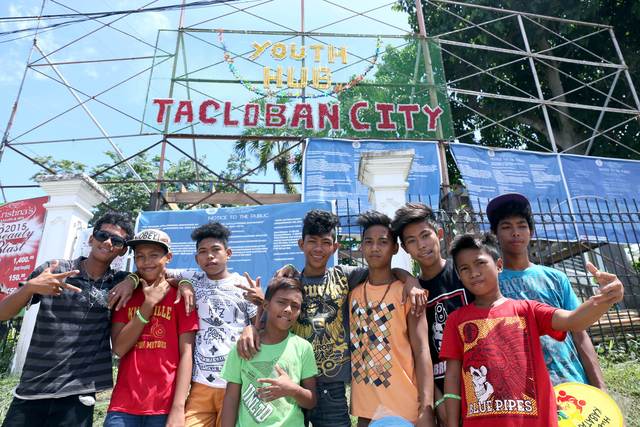 © UNICEF Philippines/2015/GSamson
The youth hub offers adolescents a safe space to have fun and access critical services.
Youth hub
A fun and inclusive space designed by and for young people, the Youth Hub in Tacloban City is the first of its kind in the Philippines. With the goal of strengthening social connections and developing the life skills of Tacloban's youth, this urban safe-space model is a one-stop shop offering adolescents with access to health services, counseling support, life skills workshops, livelihood training and fun group activities in sports, recreation and arts.
Two refurbished shipping containers were used to house a health clinic and workshop rooms for meetings. There is also an open outdoor space for an urban garden, and a skate park – designed by local skaters and BMXers.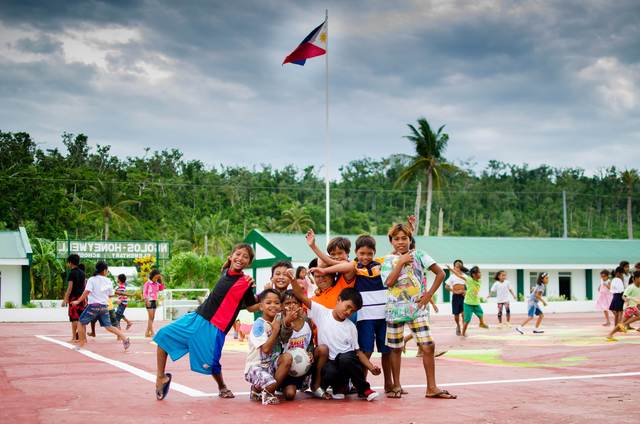 © UNICEF Philippines/2015/JBayaya
Safer schools for all students.
Empowering schools and teachers
In order to create healthy, safe and protective schools, UNICEF worked with the government to make school a safer place for all. 10,000 educators were trained on Education in Emergency, Disaster Risk Reduction and Psycho-social Interventions to help students during and after disasters strike.
Working with local communities and other stakeholders, schools are being supported for 3 years to create better environments for all students. This includes improved water, sanitation and hygiene as well as better child protection systems.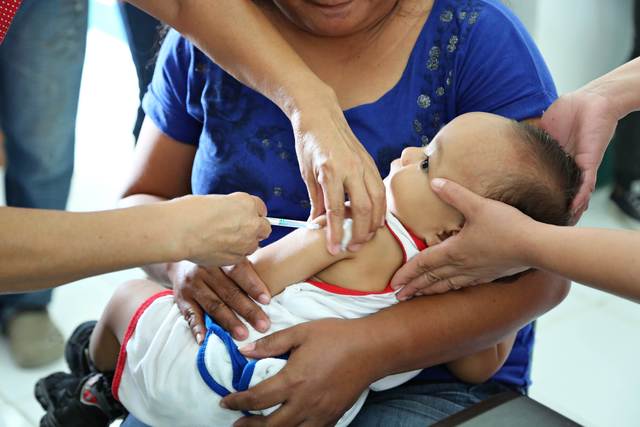 © UNICEF Philippines/2015/JReyna
Getting health services to the most vulnerable is a priority.
Restoring health services and infrastructure
With low pre-typhoon measles coverage, widespread malnutrition and destroyed health facilities and supplies, the restoration of health, especially immunization services was an immediate priority of UNICEF, WHO and the government after Typhoon Haiyan.
UNICEF is the world's largest buyer of childhood vaccines, reaching over one third of the world's children, including those affected by the typhoon. UNICEF supported the reestablishment of immunization services by restoring the cold chain and making it disaster resilient. UNICEF also helped in restoring children's immunization records and training health staff on vaccine and cold chain management.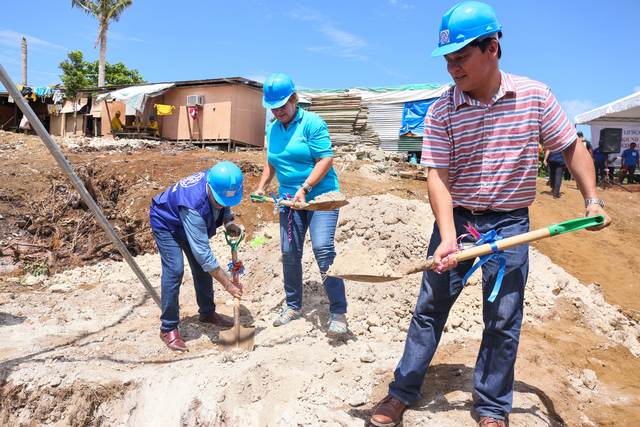 © UNICEF Philippines/2015/GSamson
A new building to protect families is being constructed.
A safe haven
UNICEF is building a safe haven that doubles as a youth and children's space. UNICEF together with the International Organization for Migration (IOM) and the local government of Guiuan are now building the country's first resilient community evacuation center that doubles as a space where children can meet and play.
In times of disasters, children are affected in various ways. Children who have been displaced need a safe place with sufficient electricity and water. Having a dedicated evacuation center also minimizes the disruption on children's education because it frees up schools that could have been used for this purpose.
The structure, which is earthquake proof, wind proof and built on identified hazard-free sites, combines international best practices in disaster-resilient design with local construction technologies and locally available materials. Best of all, it is a perfect place for children to play sports or do art activities when there are no emergencies, with plenty of outdoor space that just lets children be children!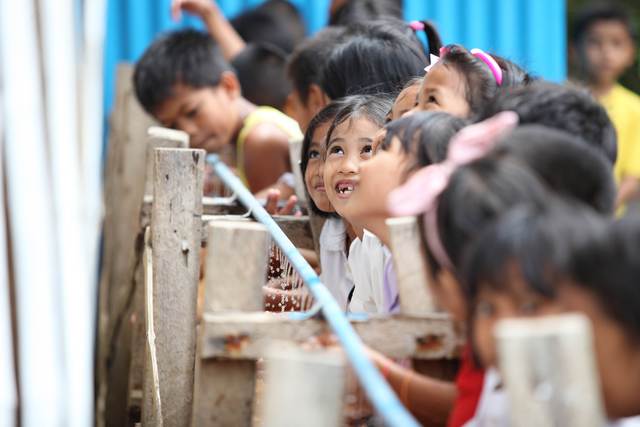 © UNICEF Philippines/2015/JReyna
30,000 children are benefiting from clean water in schools.
Safe water in schools
To increase sustainable access to safe water for children in their learning environment, UNICEF partnered with arche noVa (AN) to provide solar-powered pumping systems in 80 schools in Leyte province benefiting around 30,000 children.
The project is part of UNICEF's work with the Department of Education to institutionalize Water, Sanitation and Hygiene (WASH) in schools, so that children have better access to safe drinking water, child friendly toilets, and are able to do daily hygiene activities like hand-washing to prevent the spread of diseases.
The community came together to help set up the system. The Parents Teacher Association helped in mounting the solar panels on the school's roof while the Leyte Metropolitan Water Department is assigned to take on any maintenance and repair work. Thanks to this resilient 'off-grid' water system, a sustainable water supply that is safe from power outages can help keep children healthy.
Donate NOW, help children in crisis around the world!