HONG KONG, 20 November 2014 – Hong Kong Committee for UNICEF (UNICEF HK) today hosts the celebration of the 25th anniversary of the United Nations Convention on the Rights of the Child ([email protected]) 'cum' Believe In Zero, Make A Video (MAV) Launching Ceremony at Grand Century Place in Mong Kok. At the event, UNICEF Young Envoys announced the survey results on Hong Kong children's right to play, and one minute videos produced by Hong Kong youths were premiered. The survey and the videos both reveal that youths in Hong Kong are facing various adversities such as heavy study pressure, domestic violence, estranged relationships with family members, bullying and deprivation of free play. UNICEF HK urges adults, parents in particular, to listen more to their children.
As part of the [email protected] celebration, UNICEF HK lighted up the Merry X'MAV Christmas tree, which was adorned with the 25 achievements that international community has done to improve children's lives since the CRC was adopted. The tree also serves as a call to Hong Kong people to pay more attention to children's rights and the state of world's children.
90 per cent students face academic pressure; 70 per cent have insufficient free play
UNICEF Yong Envoys announced the survey results on Hong Kong children's right to play at the press conference. From May to October this year, the Young Envoys interviewed 363 pairs of child attending primary or secondary schools and their parent. 90 per cent of the parents states that their children have different level of study pressure driven by school assignment, while 40 per cent said the level of pressure of their child are high or extremely high.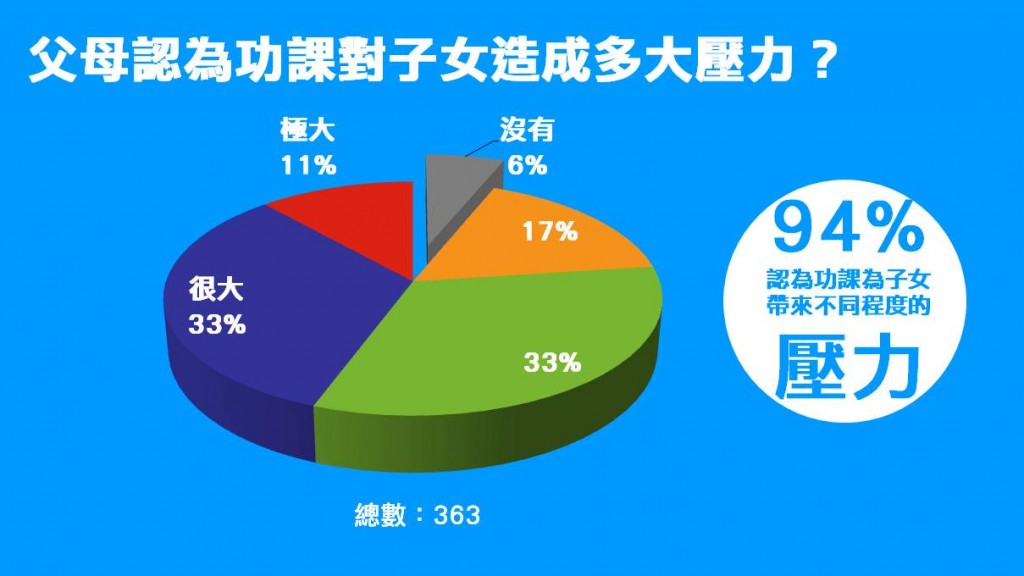 More than 90 per cent of the parents have signed up extra-curricular activities for their children to attend after school, in hopes that these will give their children a competitive edge, tap into their potentials, and bring them more advantages besides academic success. Some primary school students said they have 10 or more extra-curricular activities to attend every week.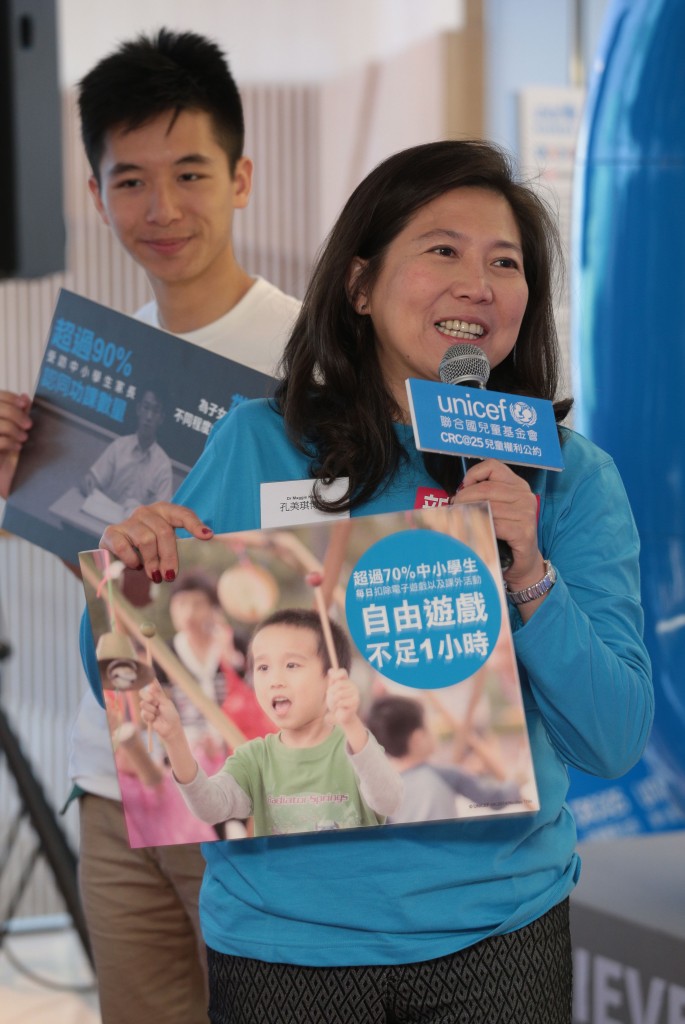 Taking off electronic games and extra-curricular activities, more than 70 per cent of the primary and secondary students reported they had less than one hour of free play each day. This indicates the heavy burden of school assignment and frequent extra-curricular activities have severe impact on students' free play time. Over 80 per cent of the secondary school students and half of the primary school students disagreed with the notion that play is not beneficial, but less than 40 per cent of parents share the same view. It clearly shows parents and children sometimes share very different views.
UNICEF HK Vice Chairman Dr Maggie Koong addresses the study pressure facing students partly comes from the phenomenon that the society generally focuses on academic success. But she believes parents' over-concern on children's academic results could make children feel even more stressful. 'The survey results are worrying. Play is vital to children's growth and can help them to relieve from pressure. If children lack play, they could be more susceptible to depression and anxiety disorder.' She suggested parents to spend more time to play with their children apart from urging their children to do their schoolwork, because play could improve communication among the family. She also recommended parents to ensure their children have at least one hour of free play every day for balanced development.
To complement the UNICEF theme of [email protected] – 'Innovate for Children, Innovate for Equity', UNICEF HK has revamped the MAV programme and assembled a team of MAV production supervisors and trainers, with three overseas professionals and 15 local film professionals for the first time. From May to August this year, MAV production supervisors and trainers partnered with UNICEF HK to organize seven five-day video day camps for young people who are facing heavy study pressure, living in poverty, and those from an ethnic minority, or suffer from congenital heart disease. The youth created 92 one-minute MAV videos on the theme 'My Story, My Rights' to relieve their pressure and realize their right to participation.
Trainers team up for innovative video workshop; help children relax and realize the right to participation
16-year-old Law Wing-shan, an MAV participant, is going to sit this year's Hong Kong Diploma of Secondary Education Examination (DSE). She is facing a huge study pressure, "Whether in class or not, my teachers and friends keep reminding me to work hard, to get good grades, or else my future will be very difficult. I feel so stressed. I just want to escape." She portrays her fears of DSE in her MAV video, entitled The Shining, in a ghosty way. 17-year-old Yeung Ka-chun created a video, This is Me, to express his unwillingness for grown-ups to fill his 'self' bottle with their expectations, and his wish to choose his own way. In the video Home Alone of a form three student Huang Junhao, aged 15, who is often left at home alone, shows his love to his parents who work tirelessly all day, and his wish to have parents to stay with him more.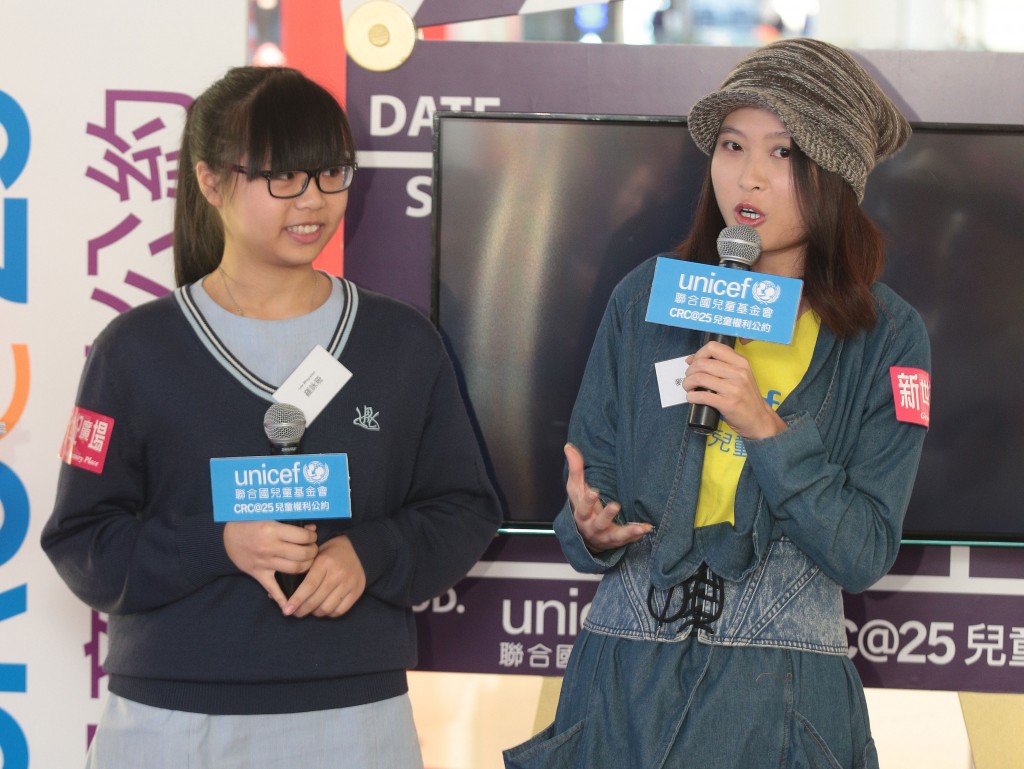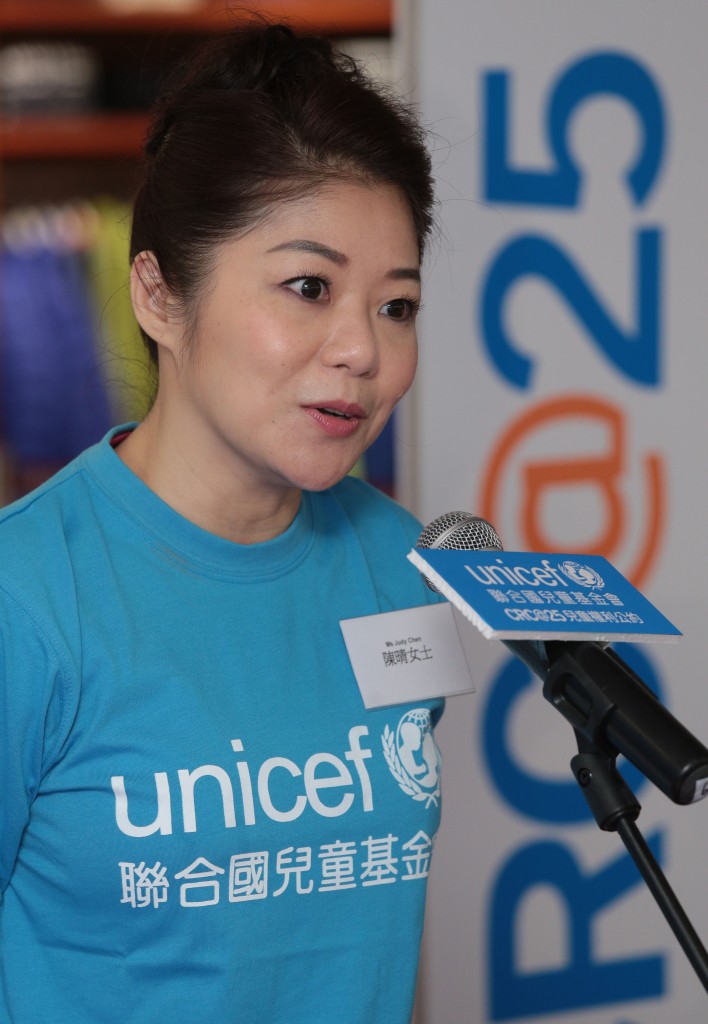 UNICEF HK revamped MAV for [email protected] and changed it from a competition into video day camps, to reach out to more local youth of 12- to 18-year-old. We pay special attention to the most marginalized, vulnerable and neglected children, and help them realize their right to participation, and let them be heard. The 92 one-minute MAV videos vividly depict life stories, worries, struggles and wishes of the youngsters under eight categories: study pressure, parents' expectations, family relationships, self-identity, acceptance and inclusion, future and right to dream, friendship, and society and environment.
"These 92 one minute MAV videos are all strong and powerful reminders that many Hong Kong children still cannot realize their rights in reality," said Ms Judy Chen, Chairman of UNICEF HK. "What impresses me most is that students show strong desire for parents' recognition and listening in the videos. When we had the MAV workshops, we insisted to have a one-on-one meeting with each participant for 15 minutes, to sincerely listen to what they want to express in the video story. We hope the MAV videos would remind adults the importance of listening to the youths and children – and just like the MAV slogan – 'A minutes in the telling, worth a quarter for listening!' – spare at least a quarter (15 minutes) every day to listen to children and youth and understand their needs!"
UNICEF [email protected] global initiative The IMAGINE Project
To raise the awareness of children's rights in the global community, UNICEF will launch The IMAGINE Project global initiative from 20 November to 31 December. Public can visit imagine.unicef.org to record their own version of John Lennon's renowned single Imagine, and join UNICEF to create a global version that features millions of voices from people around the world. UNICEF HK Ambassador, world renowned cellist Trey Lee will join a musical event with the presence of Grammy Award winner Angelique Kidjo, etc to unveil the #IMAGINE project as part of the celebration for [email protected] The event will be held at the United Nations General Assembly today (at around Hong Kong time 10:45 p.m.).
Dr York Chow Yat-ngok, Chairperson of the Equal Opportunities Commission, spearheaded this initiative by becoming the first public figure in Hong Kong to sing Imagine and participate in The IMAGINE project. UNICEF HK Council Members and UNICEF Young Envoys also joined after and voice out their imagination that the rights of every child can be realized and every voice of children can be heard.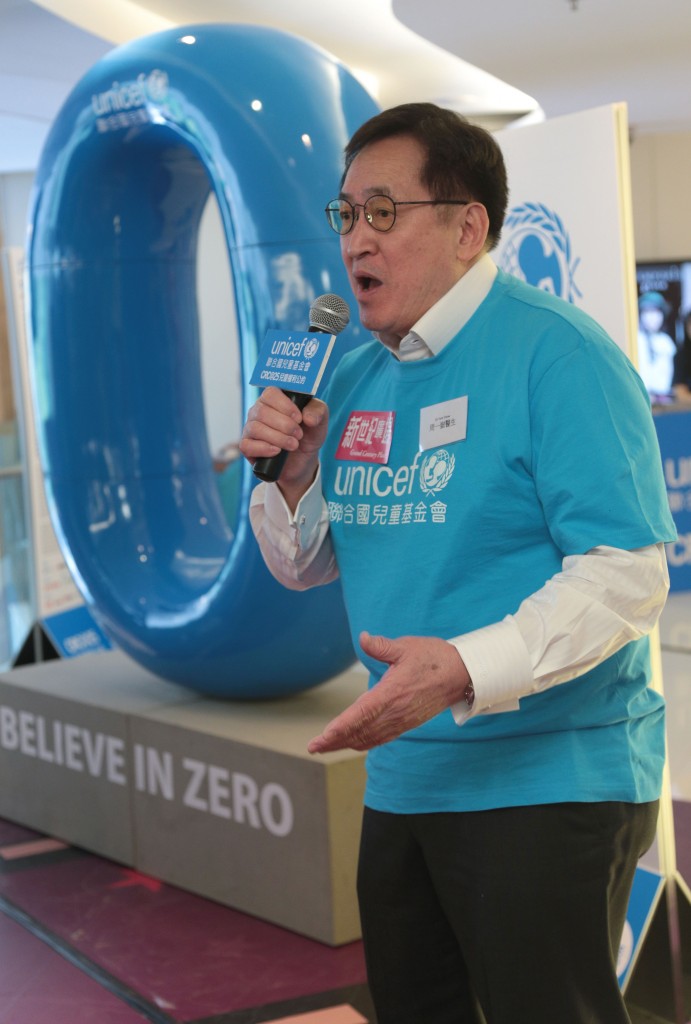 With Grand Century Place as the marketing partner of MAV, UNICEF HK spreads the voices of children further, to let more people hear the stories and understand the Hong Kong children more. Grand Century Place also sponsored UNICEF HK to hold a [email protected] exhibition and a screening of 92 touching MAV videos at L4 of the mall. The exhibition starts from today until 1 January next year. From December this year to February next year, the MAV videos will show on the big screen as a POP UP screening before the movie shows at Cine Grand Century. With a single receipt with spending of HK$300 or above at Grand Century Place, the public can take part in MAV Selfie House weekend workshops collaborated between UNICEF HK and Grand Century Place, directed by UNICEF HK MAV event supporter 'Heiward x PlayTime' and MAV producer and trainer 'Lee Siu Lung x Onelegkick'. The workshop will give everyone an opportunity create videos about play, and let children demonstrate "I'm the play expert."
Dr York Chow Yat-ngok also officiated the lighting ceremony of the Merry X'MAV Christmas tree with other guests, to kick-start the celebration activities of [email protected] in Hong Kong. The guests held pictures of children facing life challenges 25 years ago in their hands, and by putting the pictures into the giant CRC, they expressed the public confidence towards the CRC. The Christmas tree decorated with 25 achievements the international community has striven for children is then lighted up, to symbolize many problems facing children have been improved since the CRC came into force – in the past 25 years, under-five child mortality rate have dramatically reduced by half; the number of out-of-school children of primary age has fallen by 44 per cent; 2.3 billion more people have access to safe water.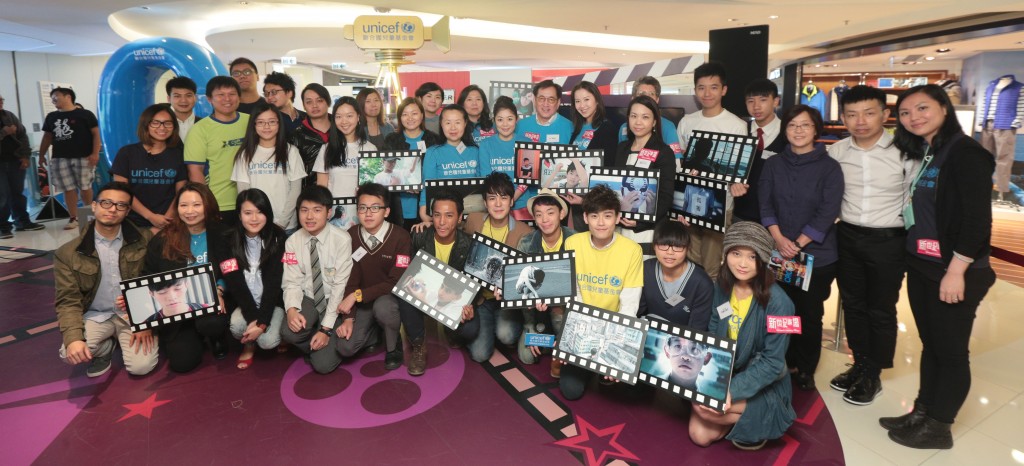 Please click here to download photos in the press release
November 20 marks the 25th anniversary of the United Nations Convention on the Rights of the Child (CRC), the most rapidly and widely ratified international human rights treaty in history. The CRC has made a world of difference in the lives of millions of children, but this historic milestone must serve both as an urgent reminder of the millions whose rights are not realized – and an opportunity to renew our commitment to reach every child, especially the most disadvantaged. Visit www.unicef.org.hk/rights to download multimedia materials and learn more about the CRC. #childrights