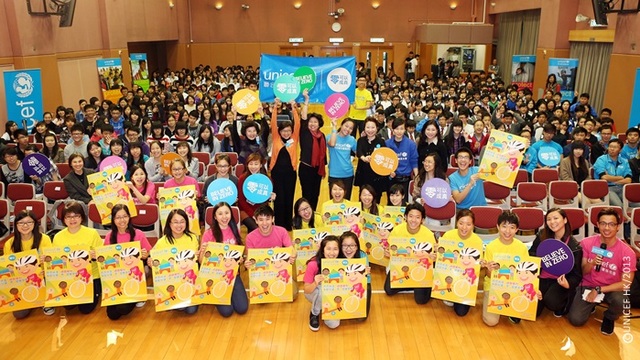 HONG KONG, 27 March 2013 —Renowned cycling champion Miss Sarah Lee Wai-sze was appointed as Hong Kong Committee for UNICEF (UNICEF HK) Ambassador today in the presence of 400 young people. She is the second athlete named as UNICEF HK Ambassador following the same appointment of Mr Wong Kam-po in 2011. Play is essential in child development. Sarah had been able to enjoy play in her childhood which enables her to strive and thrive. Upon being appointed, she will devote herself to advocate for children's right to play by promoting the essence of play to the public and work with UNICEF HK to achieve the goal of zero under-development for children.
UNICEF has been appointing world renowned kind-hearted influential people and celebrities as UNICEF Ambassador since 1954, championing children's rights worldwide and improving women's and children's lives in developing countries. UNICEF HK appointed Mr Leon Lai as the first UNICEF HK Ambassador in 1994, and made a breakthrough in 2011, 25 years after establishment, to appoint the first athlete Mr Wong Kam-po as UNICEF HK Ambassador .
| | |
| --- | --- |
| | |
Today, the appointment ceremony of Miss Sarah Lee Wai-sze as UNICEF HK Ambassador 'cum' children's "Right to Play" Education Session was held successfully in Leighton Hill Community Hall with the support of 400 young participants. In the presence of youth, Sarah officially became a UNICEF HK Ambassador after receiving the appointment certificate from Ms Judy Chen, Chairman of UNICEF HK, Ms Leonie Ki and Mr Johnny Ng, Vice Chairman of UNICEF HK. She promised to advocate for children's rights, especially the right to play all over the world for the betterment of children.
| | |
| --- | --- |
| "I loved running, cycling, playing 'throw-the-handkerchief' and 'musical chairs'. I played whenever I had spare time when I was a child." She continued, "Play helps me to relax and facilitates me to make many new friends. It also enriches my imagination and enhances my problem-solving skills. It calms me down and nurtures my courage to face challenges and handle stress during cycling competitions." |   |
| | | | |
| --- | --- | --- | --- |
| | | | "Play is not always a bad thing for children!" Ms Judy Chen, the Chairman said, "Like many children and young people, Sarah loved to play in her childhood. And it is play that inspired her, fostered her physical development and enhanced her problem-solving skills, making her an outstanding and tough athlete today." Ms Leonie Ki, the Vice Chairman added, "Children nowadays are under excessive pressure for educational achievements, and they have too many structured, programmed leisure activities that keep them away from true play. It is harmful for children's growth and development. The story of Sarah inspires us to reflect on the importance of play and investigate the issue of children's unhealthy development in Hong Kong." |
| | | | |
| --- | --- | --- | --- |
| | | According to Article 31 of the Convention on the Rights of the Child, children have the right to relax and play, and to join in a wide range of cultural, artistic and other recreational activities. Play could brighten up children's life, strengthen their psychological resilience, help them deal with pressure and emotional disorder, and foster their diverse skills. Through exercising the muscle and bones, play also supports children's physical development. As play supports the novel neural connections and changes the architectural structure of brain regions through its own value and fabulations, it helps develop children's intellectual skills as well. | |
There are many benefits of play, but not many Hong Kong people understand what true play is. They may mistake computer or electronic games as play. However, when children play electronic games, they are passively receiving excessive number of images and messages instead of interacting with people. Thus, the benefits can never measure up to "play".
A survey conducted by UNICEF HK's partner, Playright Children's Play Association, shows over half number of the parents spend less than six hours to play with their children every week, while their children spend more than 11 hours watching TV, playing computer games and surfing the internet. Moreover, nearly 80 per cent of the parents of children with special needs commented that the number of playground is 'insufficient' or 'very insufficient', showing children's right to play is not fully realised in Hong Kong.
During the appointment ceremony, Sarah and guests highlighted the four long-forgotten essences of play – "Child-oriented", "Growing fun and healthy", "Anytime & anywhere" and "Playable space", mobilising everyone to advocate for children's right to play. Afterwards, 400 participants played with a few 1-meter diameter balls together to experience the essence of play.
| | |
| --- | --- |
| | |
| | |
| --- | --- |
|   | The event today also marked the launch of the first-ever UNICEF HK near field communication (NFC) mobile application. Young participants were given a "Support UNICEF" NFC charity sticker to champion children's right with tech-navvy gadgets. By scanning the chip sticker with any NFC functioned Android smartphones, users will be redirected to Google Play Store to download and install UNICEF HK app. With this application, users can sign up as a supporter of 'right to play', make donations, register as a volunteer, access to UNICEF HK's latest news etc. They can also visit UNICEF's "I Believe In Zero" website (http://www.ibelieveinzero.org.hk) through the app or direct visit to share their play experiences and advocate for 'right to play'. |
Miss Sarah Lee Wai-sze, MH, a professional Hong Kong cyclist who was born with anemia and had gone through surgeries, is famous for her steadfast dedication to cycling. In 2010, Miss Sarah Lee won the champion by breaking the Asian Record in 500-metre time trial track cycling event of Asian Games, and was awarded the "Hong Kong Potential Sports Stars Award". In 2012, Sarah won two gold medals and a bronze in Asian Cycling Championships; as well as Hong Kong first-ever bronze, also known as third Olympic medal of Hong Kong in Women's Keirin at the 2012 Olympic Games. In January 2013, Sarah made her first victory in UCI Track Cycling World Cup that she got overall first place in both Women's Keirin and Sprint events. Getting a gold medal in the 500-metre time trial in UCI Track World Championships, Sarah became the first female cyclist from Hong Kong to win the "rainbow jersey". In March, she won two gold medals in the women's time trial and keirin in the Asian Cycling Championships held in New Delhi, India, and then received her first "Hong Kong Sports Stars Awards" and the most coveted "Best of the Best Hong Kong Sports Stars Award".
– End –
Please click here to download the photos in the press release
Please click here for more photos of the event