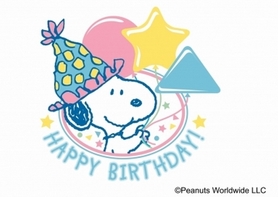 Hong Kong Committee for UNICEF (UNICEF HK) has received overwhelming support from the general public and celebrities since the launch of 'I Donate My Birthday' in 2012, to turn the birthday blessings and gifts they received to relief supplies for children in need. As Snoopy, the main character of cartoon strip 'Peanuts' comes to Harbour City (Hong Kong) this summer, it also donates its 65th birthday on 4 October to UNICEF HK. Its support marks the first support of a cartoon character in the 'I Donate My Birthday' fundraising initiative. Public can visit Snoopy's 'I Donate My Birthday' page at www.unicef.org.hk/snoopybirthday, and celebrate its birthday by sending the 'Bundle of Dream' as a gift to children in need. The 'Bundle of Dream' gift includes exercises books and pencils, which help provide deprived children a chance to receive education and pursue their dreams.
Aaron Kwok
Green Garden Utopia

Charlie Yang
Oceanic Voyage

Gigi Leung
Enchanted Paradise 
 
 
 

Karen Mok
Mok's Glamorous Dynasty


Louis K.
Cool's Vision City


Michele Reis
Summer Fantasia
 
 
 
Six renowned celebrities also designed doghouses for charity auction. All proceeds raised will be donated to UNICEF HK. Interested parties can send the name of celebrity who designed the selected doghouse, bidding price (base price at HK$1,000), the bidder's full name and contact number to [email protected]. Please state 'Snoopy Doghouse' Charity Auction in the email subject line. The auctions are open from 12 noon on 5 August to 11:59 p.m. on 31 August 2014. Each house will be offered to its highest bidder. Successful bidders will be notified individually by 5 September 2014 for collection of bidding items on specific days.
Remark: Photos are for reference only.
In July and August, UNICEF HK also held a charity booth at G Floor, Ocean Terminal of Harbour City for supporters to register UNICEF HK's 'I Donate My Birthday'. All supporters have been awarded a special pack of Snoopy stickers.
In addition, Habour City has also held a number of activities to raising funds for UNICEF HK this summer. For more, please visit Harbour City website.
*UNICEF does not endorse any brand or product.
**Official donation receipt will only be issued for the 'Snoopy Doghouse' Charity Auction initiative.