LONDON/ HONG KONG, 13 June 2011 – The generosity and commitment of the donors at today's GAVI replenishment conference which pledged the total funding HK$33.5 billion (US$4.3 billion) will benefit the lives of millions of the poorest and most vulnerable children around the world, UNICEF said today.

The children's agency said while 82% of the world's children receive vaccines, one child in five, those most vulnerable to disease and living in the hardest to reach communities, lack access to these lifesaving medicines. Despite significant progress in reducing childhood mortality, nearly 2 million children still die each year from vaccine-preventable diseases.
"The outcome of this pledging conference is exciting and tremendous news which will save millions of lives of the most threatened children around the world," said Anthony Lake, UNICEF Executive Director. "And UNICEF renews its pledge to redouble our own efforts to help governments and other partners deliver vaccines to the hardest to reach children."
UNICEF, a founding member of GAVI and also the leading vaccine procurement agency in the world, supplies nearly 60% of the world's children with vaccines from its supply division based in Copenhagen. In 2010, UNICEF purchased on behalf of GAVI and developing countries, around 2.53 billion doses of traditional and new vaccines worth HK$5.85 billion (US$750 million).
UNICEF's procurement work is guided by an over-arching vaccine security strategy that entails working with multiple, WHO-prequalified suppliers to discourage monopolies; accurately forecasting global vaccine needs in order to negotiate favourable prices and ensure an adequate supply of vaccines; and securing the safe and timely delivery of the vaccines to countries.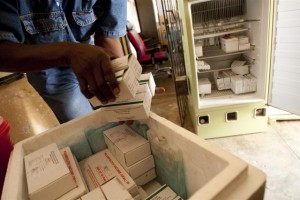 Beyond procurement, UNICEF works with governments to help deliver vaccines to communities via a "cold chain" (left) , train vaccinators, and ensure that care-givers understand the importance of immunization and how to access it.
The GAVI Alliance, UNICEF and partners aim to save an additional 4 million children's lives by 2015 by increasing access to new and traditional vaccines."GAVI's success is our success and the success of everyone working in this common cause," said Anthony Lake.