GENEVA/ HONG KONG, 1 November 2011 – UNICEF today called on the international community to fund its nutrition programme in the Democratic People's Republic of Korea for millions of vulnerable people, especially malnourished children and pregnant and nursing women. For 2011, UNICEF has asked for approximately HK$160 million (US$20.4 million) for emergency response but has received only nearly HK$36 million (US$4.6 million). Other agencies working in DPRK are facing similar funding shortfalls.
"If the funding does not arrive and we are unable to keep up our nutrition programmes to treat those children who are severely malnourished, these children will suffer irreversible consequences on their growth and development capacity," said Bijaya Rajbhandari, UNICEF Representative in DPRK. "There are also thousands of moderately malnourished children who are in danger of becoming severely malnourished without either family or the state able to care for them."
"We must continue to address the poor public nutrition situation in DPRK in combination with adequate health, water, sanitation and hygiene interventions which are also underlying factors to the malnutrition situation in DPRK," he added.
According to UNICEF reports, maternal under-nutrition is of great concern, as over a quarter of women in DPRK aged 15 to 49 are under-nourished. This greatly increases their risk of delivering infants with low birth weight who are at higher risk of mortality and diseases, increasing widespread chronic malnutrition with catastrophic long term effects on children's development.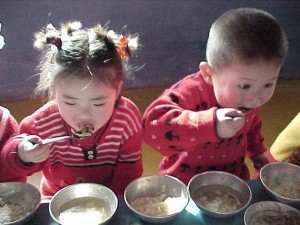 "DPRK has been in a vicious cycle where the general population's chronic malnutrition has been unchanged for a long period of time. Should no sustainable action be taken, children in DPRK will never realize their full potential," said Mr. Rajbhandari.
UNICEF has been working in DPRK since 1985. UNICEF supports the child health, maternal health, nutrition, water, sanitation, hygiene and education programme both as a regular programme and emergency programme.