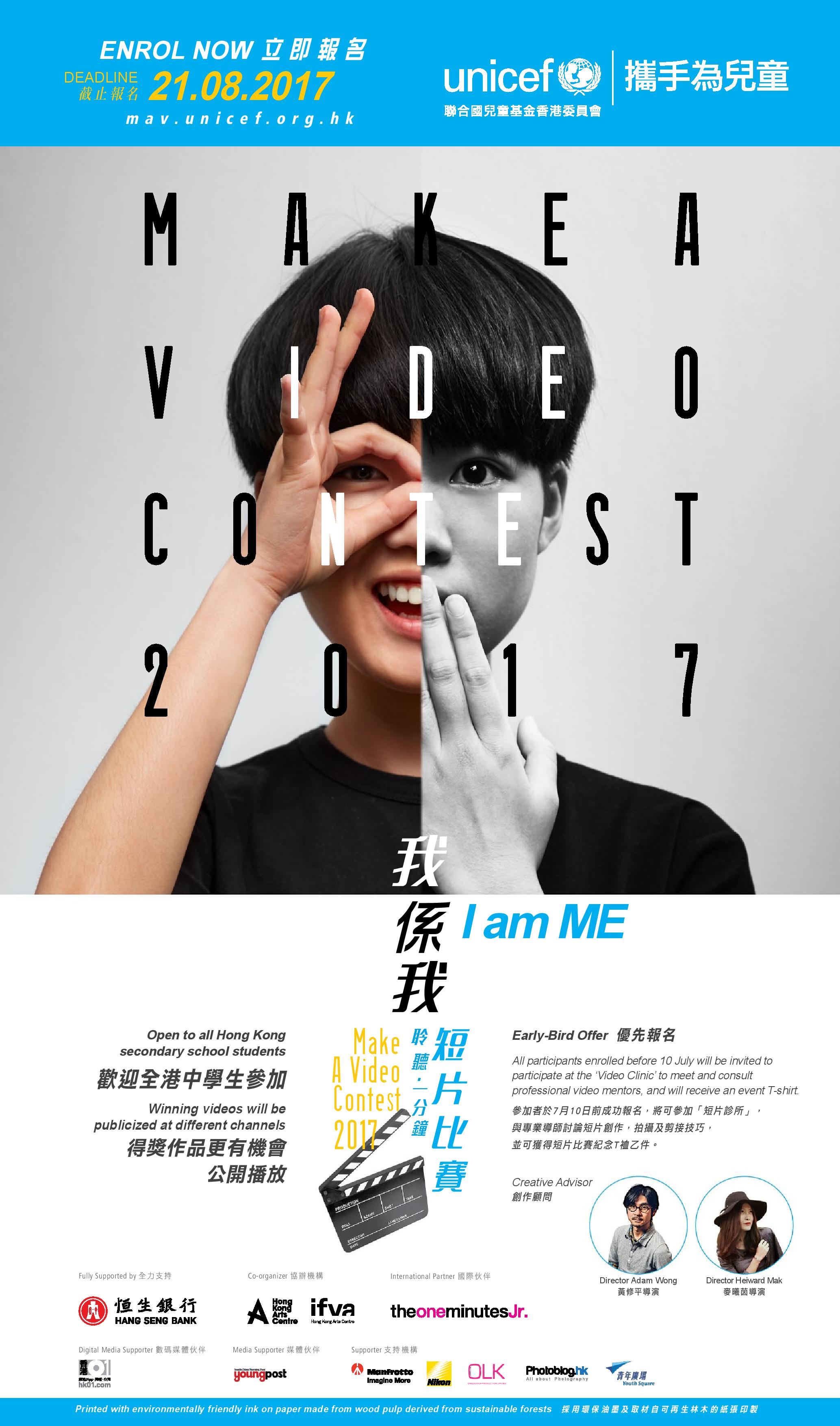 The project is fully supported by renowned filmmakers Adam Wong, Heiward Mak, Frank Hui, Vicky Wong & Steve Chan, with a video clinic session firstly launched this year.
HONG KONG, 5 July 2017 — Hong Kong Committee for UNICEF (UNICEF HK) calls for youth's participation in Make A Video Contest 2017 by submitting one-minute videos on the theme 'I am ME'. With the full support from Hang Seng Bank and co-organized with ifva, Hong Kong Arts Centre, the Contest aims to amplify the voices of youth by promoting the winning videos through multichannels and submitting their video works to The One Minutes Jr. Awards Global Competition. The deadline for video submission is 21 August 2017.
With the theme 'I am Me', the Contest this year supports youth to express themselves in creative and diverse ways, and foster healthy and realistic self-images of youth. The videos created by young people offers general public an opportunity to see the world in the eyes of the youth, understand young people's anxieties, concerns and viewpoints, and take action to respond to their needs.
"Listening to children and youth can support their healthy development. When children and youth grow, they become more aware of their identity and start to participate in different roles within the society. The one-minute videos on 'I am Me' offers moving glimpses into the young makers' real lives. We can learn about how young people perceive themselves, and how they take the perspective of others on 'me'. We also envisage this project will raise awareness on youth-related issues and facilitate social change," said Ms Jane Lau, Chief Executive of UNICEF HK.
UNICEF HK is also proud to bring the youth together with a number of renowned filmmakers who are passionate about youth development. UNICEF HK Ambassador Adam Wong, as well as Heiward Mak who have produced many movies about youth will be the project's Creative Advisor and Judge. Hang Seng Bank also offers support by engaging the Hang Seng Bank Volunteer Team in video production as actors.
A video clinic session is introduced this year for contestants to meet and consult professional filmmakers on video ideas, shooting and editing. The mentors include Vicky Wong, Trivisa's Co-director who just won the Best Director at the 36th Hong Kong Film Awards, and Steve Chan, Director of Weed on Fire and one of the nominees at the 36th Hong Kong Film. Frank Hui, another co-director of Trivisa, will also support the project by offering a personal sharing session on filmmaking later.
This summer, UNICEF HK also continues to organize video day camps for 60 participants from 10 secondary schools and youth organizations, including students with special education needs, students from care homes, low-income family and minorities and have their voices heard by society.
– END –
For more information please contact:
Hong Kong Committee for UNICEF
Jamie Wong, Communication Specialist                                        Tel: 2836 2967                                         Email: [email protected]