Significant achievements for children in a challenging year
NEW YORK/ HONG KONG, 31 December 2012 – It's been another challenging year for UNICEF and its partners – responding to a wide range of humanitarian needs under less-than-ideal financial circumstances.
But significant gains have been realised, particularly in the fight against disease and child mortality.
Strides against disease and child deaths
Substantial progress has been made towards achieving UN Millennium Development Goal 4: Globally, the number of under-5 deaths has declined from nearly 12 million in 1990 to 6.9 million in 2011.
That means 14,000 fewer children are dying every day.
The end of both HIV/AIDS and polio is in sight. The world has committed to ending new HIV infections by 2015, thanks to simpler drug regimens and the success of programmes that prevent mothers from passing the virus to their children.
In September, United Nations Secretary-General Ban Ki-moon hosted the most important meeting on polio eradication in the past 20 years. Although polio remains endemic in Afghanistan, Nigeria and Pakistan, infections were reduced by 99 per cent between 1988 and 2011.
At the meeting, world leaders recommitted to eradicating the disease.
"If we do not make history and eradicate polio in the coming months and years, then history will, rightly, judge us very, very harshly," said UNICEF Executive Director Anthony Lake.
Partnerships
2012 was a year of innovative partnerships. A Promise Renewed mobilised a broad international coalition to end preventable child deaths. Since its launch in June, more than half the world's nations have signed the commitment.
UNICEF is also committed to the Scaling up Nutrition movement, which brings together 30 countries, 27 global leaders and more than 100 organisations to tackle the issue of the 165 million children under 5 who are stunted.
Helping children survive and thrive
In the field, UNICEF responded to a wide range of humanitarian disasters in 2012.
More than one million children are affected by conflict in the Syrian Arab Republic. UNICEF is getting urgent supplies to them, as well as to the more than 200,000 refugee children in neighbouring countries.
The drought crisis in the Sahel was one of the biggest challenges. More than 18 million people faced food insecurity in the region. An estimated 1.1 children were in danger of death. In some countries, food insecurity was exacerbated by conflict, displacement and cholera. By the end of September, UNICEF had reached more than 730,000 severely malnourished children under 5 with life-saving treatment.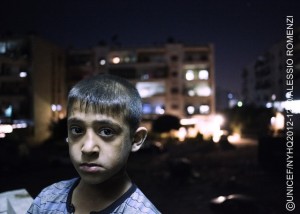 In Pakistan, more than 100,000 children and women affected by flooding and insecurity received help and protection.
UNICEF responded to renewed violence in the Democratic Republic of the Congo, where, in 2012, the number of internally displaced persons was the highest it had been since 2009. More than 3,000 separated children were reunited with caregivers.
And, amidst the challenging first year of independence in South Sudan, with political tension, an influx of refugees, and inter-tribal conflict, more than 350,000 children were reached with emergency water and sanitation.
"We can be proud of our work every day to help children survive and thrive; to help girls achieve their potential; to protect children from violence and exploitation; to vaccinate every child and to eradicate polio; assure life-saving supplies; forge more diverse partnerships to accelerate results and so, so much more," said Mr Lake.