NEW YORK/ HONG KONG, 22 March 2012 – As the world commemorates World Water Day, UNICEF called on governments to pay particular attention to those living in rural areas who are being left behind in their countries' progress, especially with regard to access to safe drinking water and basic sanitation. It also highlighted other consequences of lacking drinking water sources that hit women and girls most.
"Governments must make sure that their resources achieve real results for the poorest people," said Sanjay Wijesekera, UNICEF's Chief of Water, Sanitation and Hygiene. "Otherwise they risk leaving large portions of their populations, particularly children, increasingly vulnerable to disease."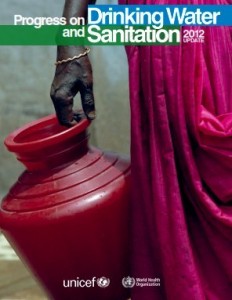 Two weeks ago a UNICEF and World Health Organization report, Progress on Drinking Water and Sanitation 2012, showed the world met the Millennium Development Goal target for drinking water at the end of 2010, when 89 per cent of the world's population, or 6.1 billion people, used improved drinking water sources. However, the report says globally there is an almost universal disparity of access to safe drinking water in rural areas compared to urban areas, which rural dwellers are several times more likely than their urban counterparts to be without access to safe drinking water.
Of the 783 million people still without improved sources of drinking water in 2010, over 80 per cent of them (653 million people) are from rural areas. The picture is even worse for sanitation, where globally, 79 per cent of the urban population use an improved sanitation facility compared to 47 per cent of the rural population. Fully 72 per cent of those without access to improved sanitation, or 1.8 billion people, live in rural areas.
UNICEF says the rural-urban divide for safe drinking water is particularly acute in poorer countries. In sub-Saharan Africa the gap between urban and rural is 34 percentage points. On average in Least Developed Countries, 97 out of every 100 rural dwellers do not have piped water on premises.
Overwhelmingly, it is women and girls who are bearing the brunt of the water burden, UNICEF says. Surveys conducted in 25 countries in sub-Saharan Africa found that in 71 per cent of all households without water on the premises women or girls are mainly responsible for water collection. Each household typically requires at least one trip a day, and often more, for water collection. It is estimated that women spend a combined total of at least 16 million hours each day collecting drinking water; men spend 6 million hours; and children, 4 million hours.
"Safe drinking water must reach everyone", says Wijesekera. "We cannot celebrate progress until those who are hardest to reach can also turn on a tap, or go to a well or pump and get enough safe drinking water for their daily needs."