COPENHAGEN, Denmark/ HONG KONG, 4 November 2011 – UNICEF announced the opening of its first humanitarian transit hub for nutrition supplies destined for Somalia. Situated in the port of Dubai, the new warehouse will help speed up the delivery of nutrition supplies to Somalia where famine has been declared in six southern regions. An estimated 5,000 metric tons of corn soya blend flour will be moved through the warehouse monthly to Mogadishu and other worst-affected regions of the country.
Up until now, sea routings have had to use the port of Mombasa exclusively as the gateway into the Horn of Africa. Mombasa will continue to be used, but shipping direct to Mogadishu will help reduce congestion in that port and hasten the delivery of the life-saving assistance.

There are 1.5 million children in southern Somalia who are in dire need of humanitarian assistance. There are 450,000 acutely malnourished children, including 190,000 children who are so severely malnourished that they at high risk of death within weeks if they don't receive the necessary assistance.
Funding for the warehouse was offered by businessman Klaus-Michael Kuehne via the Kuehne Foundation. The donation, valued at HK$5.85 million (US$750,000), will cover the operational costs for the Dubai warehouse for the next six months and comes as the children's agency faces a daunting logistical challenge in managing the technical complexities of supply channels.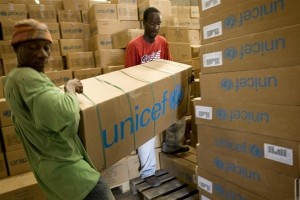 "The humanitarian transit hub will make a major impact in widening our pipeline and also improving the predictability of supply delivery," said Shanelle Hall, Director of UNICEF Supply Division. "We are very grateful for the generous support of the Kuehne Foundation".
"It will help us ensure a regular flow of nutrition supplies for the worst-affected children and their families."
Support for the Dubai hub represents the largest contribution from any private source earmarked for logistics in the current Horn of Africa crisis. More than any other line item, logistics, meaning warehousing, storing and transporting of supplies, is the most costly line item of any emergency response.
"To me humanitarian aid, especially in Africa, is a top priority task for my foundation," said Mr. Kuehne. "Through our Humanitarian and Emergency Logistics Platform (H.E.L.P) effectiveness and efficiency in the field of supply chain management has also been improved. I sincerely hope that the recent contribution from the Kuehne Foundation to UNICEF will help to save children lives in the areas affected by famine and drought in southern Somalia."
Between July and October, UNICEF has sent nearly 25,000 MT of essential supplies to children in drought and famine-affected Horn of Africa.