BANGKOK/ HONG KONG, 27 October 2011 – UNICEF is providing 20,000 insecticide-treated mosquito nets to help protect families evacuated to temporary shelters and living in other flood-ravaged areas in Thailand from dengue fever and other mosquito-borne diseases.
The mosquito nets are being purchased locally for HK$755,040 (Baht 2.9 million/ US$96,800) and will be ready for distribution this week. UNICEF has earmarked an initial HK$2.34 million (Baht 9.3 million/ US$300,000) to support the government's flood relief efforts in the areas of health, child protection, water supply and sanitation, and hygiene promotion.
An unusually severe rainy season has resulted in the country's worst flooding in more than 50 years. More than 370 people, including 61 children, have died. Large parts of 29 provinces, including Bangkok, are inundated with floodwaters, and over 2.1 million people are currently affected.
"The mosquito nets will help children and their families ward off dengue fever, which is prevalent in all regions of Thailand," said Tomoo Hozumi, the UNICEF Representative for Thailand. "In those limited areas where other mosquito-borne diseases are endemic and could become health issues due to flooding, the nets will also offer increased protection."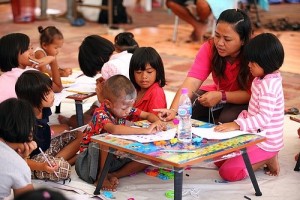 UNICEF is using HK$795,600 (Baht 3.1 million/ US$102,000) to establish "Child Friendly Spaces" at 20 large temporary shelters to provide safe areas for recreation and psychosocial support activities. The project, being carried in collaboration with Save the Children, will also provide technical support for the registration of children at shelters and the dissemination of messages aimed at preventing the separation, abuse and exploitation of children in affected areas.
UNICEF has printed and is disseminating 20,000 pamphlets containing information on practical, low-cost actions that families should take to protect the health and general well-being of their children during floods and other emergencies. Areas covered include prevention of injuries and drowning, prevention of vector-borne diseases and basic hygiene, such as frequent hand washing. The same messages are available for viewing and printing on a Thai-language Facts for Life website established in October with UNICEF support.
During the post-flood recovery phase, UNICEF will support the training of teachers, social workers and volunteers to provide psychosocial counselling to affected children. UNICEF is discussing with Ministry of Education officials the provision of supply support that would enable learning activities to restart as soon as possible in flood-affected areas, even in those areas where school infrastructure has been heavily damaged.
UNICEF can provide supplies of "School-in-a-carton", which contain essential teaching and learning materials, such as flipcharts, erasers, exercise books, pens, pencils, rulers etc., for the re-establishment of learning. With these supplies, teachers can begin instructing children again in temporary locations as regular school facilities are being repaired and refurbished.
UNICEF may require additional donor funding to support post-flood assistance.