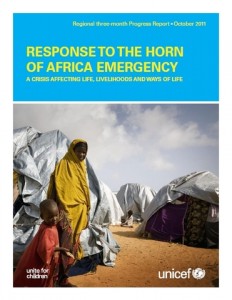 "Due to the magnitude of the humanitarian crisis, we have to increase our immediate response and at the same time lay the foundation for long-term development to prevent a similar catastrophe from happening again."
Some 13.3 million people need assistance. More than 450,000 Somalis have fled to the refugee camps around Dadaab in northeastern Kenya, including 100,000 since June. Another 183,000 Somalis have fled to Ethiopia, including more than 120,000 to the refugee camps in Dollo Ado, 20,000 refugees went to Djibouti.
"We need more support to scale up even more our integrated interventions in health, nutrition, food security, water and sanitation, education and child protection to create a better future for the children in the Horn of Africa," continued Elhadj As Sy.
Thousands of children have already died, and more than 320,000 – half of them in Central and South Somalia – are so severely malnourished that they may perish as well in the coming weeks and months, if relief operations are not scaled up rapidly.
The report found that the international response was extraordinary. Thanks to all the support, in the past three months UNICEF and partners across the Horn have achieved important results on which to build, including:
• Almost 10,000 metric tonnes of life-saving UNICEF supplies delivered to the Horn of Africa by air, land and sea routes,
• 108,000 severely malnourished children treated through therapeutic feeding centres,
• 1.2 million children vaccinated against measles,
• 2.2 million people provided with access to safe water and
• 48,000 children with access to child-friendly spaces or other safe environments.
The report also found that community-based systems like the Productive Safety Net Programme and the Health Extension Programme in Ethiopia have been instrumental in preventing higher death rates.
In Central and Southern Somalia, where access for humanitarian agencies is limited, UNICEF has been able to reach 350,000 people with supplementary feeding and some 30,000 families with cooked meals while they were on their way to the refugee camps in Kenya and Ethiopia.
Forecasts for the October-to-December rainy season indicate that food security may improve in Kenya and Ethiopia, where rains have recently began. Still, experience also shows that seasonal rains, after prolonged drought, increase the risk of flooding and outbreaks of deadly diseases such as cholera, malaria and pneumonia. Thus, in Central and Southern Somalia, the situation will rather deteriorate further if humanitarian access cannot be improved rapidly and significantly.
"We need to go the extra mile to reach all children and their families who need our help. The crisis is far from over, and will definitely continue well into 2012," said Elhadj As Sy, who is the UNICEF Global Emergency Coordinator for the Horn of Africa crisis.
"One thing is clear: with continued support from our donors and partners, our combined efforts to save lives, livelihoods and ways of life will make a difference."